Are Annual Passes All Canceled? What's Going On At Disneyland Versus Disney World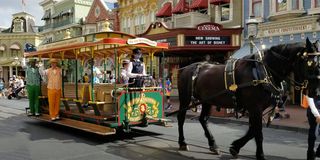 A few days ago, Disney parks announced something brand new: the Magic Key Program. Ostensibly, the Magic Key is similar to what Disney has offered to parkgoers in the past, with multiple tiers of access to the parks at different price points. But are all Annual Passes cancelled? The Magic Key Program was listed as an addition for Disneyland, so what's going on at Walt Disney World?
When Disney Parks first broke news this week, it listed the discounts available with the new Disneyland Magic Key Program. Discounts were listed along with the number of park reservation holds that any user was able to hold at a given time (the highest tier package offers up to six holds at a time while the lowest tier offers two at a time), along with availability for free and discounted parking (highest tier offers free parking, lowest tier offers no parking discount, with options in between). Tucked away in the announcement about the forthcoming Magic Key benefit at Disneyland was a note about what is actually going on at Disney World.
As it turns out, while Disneyland may be shifting to a Magic Key Program after canceling its Annual Pass, Annual Passes will be gearing back up at Walt Disney World. Previously, Walt Disney World had stopped newcomers from joining the Annual Pass program back in January of this year following a shutdown of the parks in 2020 and a reopening later as ever-evolving safety guidelines were put in place for the pandemic. Now, the company says Annual Pass purchases will be resuming soon for the Florida-based parks:
More details about the passes are expected later in August. Even if Disney hadn't mentioned more about when to expect forthcoming news, we'd definitely be getting the news soon-ish as the company's big 50th Anniversary Celebration will kick off on October 1 (the announcement clearly states we'll get details before then).
Big plans have already been underway for that celebration for a while, though it's worth noting that reservations for the Magic Kingdom sold out on that day months ago and Hollywood Studios followed (though as capacity in the parks increase, so do the number of available reservations). Previously, while Disneyland had fully canceled Annual Passes due to an elongated shutdown, Disney World had simply stopped signing up newcomers to the program. Hopefully, this restart will allow frequent visitors better access to the Magic Kingdom, Animal Kingdom, Hollywood Studios and Epcot parks in the coming months.
While we don't have a date yet for the return of Annual Pass sales at Walt Disney World, we do know the Magic Key option will start being available soon. Disney World released a lot of very clear information about pricing and what to expect with those passes, which will go on sale officially starting on August 25th, though even the time is vague as Disney says the sale will happen "no earlier than 10 a.m. PT." So we'll be sure to keep you posted on that front.
In general the offerings for the Magic Key versus the Annual Pass have similarities, so it's interesting to see that Disneyland and Disney World seem to be taking separate approaches moving forward. Yet, at the end of the day, as long as mega fans are able to regain some of the flexibility the passes have traditionally offered, it should be a win.
Amazing Race & Top Chef superfan with a pinch of Disney fairy dust thrown in. If you've created a rom-com I've probably watched it.