Jungle Cruise's Emily Blunt And The Rock Debate If They Could Beat Indiana Jones In A Fight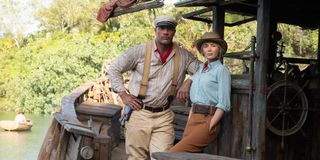 CinemaBlend participates in affiliate programs with various companies. We may earn a commission when you click on or make purchases via links.
Dwayne "The Rock" Johnson and Emily Blunt's Jungle Cruise has been a hit at the theaters, and has delivered an epic adventure that really shows off the chemistry between its two stars. Dwayne Johnson, of course, celebrated dominating the box office with a shirtless video. And even though there was cause for concern due to the dual release strategy from Disney, the film is still a success. Jungle Cruise has elements of the Pirates of the Caribean films and, perhaps even more exciting, the Indiana Jones franchise. Emily Blunt and The Rock recently debated whether they could beat Indiana Jones in a head-to-head fight.
Any movie where the characters are in a tropical setting on an adventure for some mysterious object or artifact has probably been inspired by Indiana Jones. Jungle Cruise stars Emily Blunt and Dwayne Johnson have discussed whether or not their characters could beat Indiana Jones in a fight. And they definitely have the chemistry to make their case, telling IMBD:
While being very charming and funny together and answering various questions about Jungle Cruise, The Rock and Emily Blunt give their take on if they would win against one of the most iconic movie characters of all time: Indiana Jones. Initially, Emily Blunt says Indy would win because he has a whip and looks better in a hat than Dwayne Johnson's Frank, but The Rock brushes that off and saying that as a duo, they win. They do have the advantage of being a pair, so they aren't out of bounds for suggesting this. And The Rock is twice the size of Indiana Jones, so there's also that factor.
Indiana Jones has been through his share of scraps with bigger guys and groups of bad guys where his odds for coming out alive were non-existent, but he always came out on top. A more fair matchup might be Brendan Fraser and Rachel Weisz from The Mummy. Jungle Cruise and The Mummy share some qualities and inspiration from Indiana Jones, so pitting them against each other is totally within reason.
Jungle Cruise is a wild ride, and the ending leaves many unanswered questions opening up the possibility for a sequel down the line. If there will be a sequel, which hopefully there will be, there are a few elements from the Disney ride that the sequel should include.
Dwayne Johnson is now awaiting his DC debut in Black Adam next summer, and the film and the Hero/Villain's powers sound absolutely epic. Emily Blunt is still battling Fantastic Four fans on whether or not she would play Sue Strom, detailing what it would take for her to do a superhero movie. Hopefully, we don't have to wait very long for another Emily Blunt and Dwayne Johnson collaboration because we can't get enough of their chemistry together.
Movie and TV obsessive. A good Heist movie is the way to my heart. Enjoyer of everything from Marvel Movies to Rom-coms.
Your Daily Blend of Entertainment News
Thank you for signing up to CinemaBlend. You will receive a verification email shortly.
There was a problem. Please refresh the page and try again.