Jungle Cruise: What Fans Are Saying About Dwayne Johnson And Emily Blunt's Movie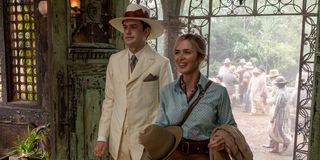 CinemaBlend participates in affiliate programs with various companies. We may earn a commission when you click on or make purchases via links.
Disney's Jungle Cruise steamed into the harbors of theaters last weekend, and the fans have been talking about what Dwayne Johnson and Emily Blunt's film means to them. While critics seem to feel their own way about the movie, there are specific subjects that the filmgoing public have seemed to pick up on in their responses to director Jaume Collet-Serra's chart-topper. Let's take a closer look at what the fans are saying about this pleasure cruise, starting with how it reminded a lot of people about movies they already love.
Jungle Cruise Brings Back Fond Memories Of Adventure Franchises Past
Before Jungle Cruise even hit theaters, there were already comparisons to both The Mummy franchise, as well as Disney's own in-house treasure hunt, Pirates of the Caribbean. While both of those series were still invoked upon release, there were even more adventure franchises that found themselves in the conversation. Our first reaction threw down this impressive list of such titles:
It's probably a good thing that Jungle Cruise has endeared itself to the public so effectively. With Indiana Jones mentioned in the good company of movies such as Jumanji and even Romancing The Stone, Disney seems to have a cross-generational hit on its hands. And, of course, there's even more love for Indy and The Mummy with this next tweet:
If we're going to get serious about the Brendan Fraser renaissance that's been happening, one of two things needs to occur. Either The Mummy franchise needs to be brought back by Universal, giving Rick O'Connell the fourth adventure that he, Evelyn and the rest of their associates deserve. Or, conversely, Jungle Cruise 2 needs to work in a potential role so perfect for Fraser, it'd be a sin not to cast him in it.
Perfect Casting Is Jungle Cruise's Not-So Secret Weapon
Casting is key when you want to build a foundation for something like Disney's Jungle Cruise. If this is going to become a franchise, you need to have the right people on board to steer the proverbial ship. And if you look at tweets like the reaction we're about to share, it seems that the casting of this grand voyage stuck the landing:
You could cast Emily Blunt, Dwayne Johnson and Jack Whitehall in anything, and you would indeed draw in audiences. But Jungle Cruise threw them all in one movie, and it's a hell of a combination. Though the chemistry doesn't stop when they yell "cut" on the set, as seen in the adventures that Blunt and Johnson have had in promoting the film:
That particular point is something CinemaBlend's own Skipper Dirk Libbey got to experience, as he was present for the big Jungle Cruise press day. But not only did he, and the rest of the internet, latch onto Emily Blunt and Dwayne Johnson's insane chemistry, but everyone's also come to acknowledge one piece of The Rock's performance that they can't take for granite.
The Rock's Dad Jokes Are A Highlight Of The Jungle Cruise Experience
If you're going to play a Jungle Cruise skipper, you need to have the puns ready to go at a moment's notice. Dwayne Johnson's Skipper Frank Wolff is introduced to the audience in a sequence that strings together a strong stream of dad jokes, which only set up his character at large. And between his godlike stature, as well as his delivery of said puns, the world is absolutely in awe:
Now if you're one of those people who haven't been able to stop dropping puns after a Jungle Cruise viewing, you might be prone to causing a couple eye rolls at home. But no matter how corny your one liners may be, there's a tacit admission that Frank Wolff's wordplay is just lame enough that it's supposed to get on your nerves. Which means you may find your jokes favorably compared to Jungle Cruise's, as shown below:
Whether your gags are seen as brightly as a sunrise on the river, or as welcome as the backside of water, Jungle Cruise has us all appreciating puns a little more. At least, that's seems to be the case for those of us who aren't Emily Blunt; to whom we all owe a debt of gratitude for holding it together in the face of such polite annoyance. But rounding off the entire fan reaction to Jungle Cruise is something we should all be able to appreciate.
That New Metallica Cover In Jungle Cruise Has Made Some Fans
Metallica is still a name that gains quite a bit of respect in the rock community. However, every now and then, they creep into the world of film and film music, with projects that bring the house down. Their new cover of "Nothing Else Matters," alongside Jungle Cruise composer James Newton-Howard, is a treasure to behold; and it's definitely made some fans:
Heard at the beginning of Jungle Cruise, as well as during Dwayne Johnson's crucial flashback that fills in Skipper Frank's backstory, the door has officially opened both ways between the world of Metallica and film music. They've gone from covering iconic cues like Ennio Morricone's "The Ecstacy of Gold" to providing a new spin on their own songs. The response continues to be enthusiastic, as you'll see in our last fan reaction.
There's plenty more that fans of Jungle Cruise could be talking about in terms of what made Disney's latest would-be blockbuster such a fun ride. We haven't even touched the awesomeness of Proxima, Frank's cheetah friend, nor have we even mentioned Jesse Plemons' hysterical Indiana Jones-style villain. There's more to this Jungle Cruise than you could ever get from a simple rundown like this, and it's highly recommended that if you're even the least bit intrigued, you take this journey for yourself.
Dwayne Johnson and Emily Blunt are waiting to wow you at your local theater, and even in 3D if you're so inclined! But if you're looking to board the boat from the comfort of your own couch, you can see Jungle Cruise through a purchase of Disney+'s Premier Access to the film. Non-subscribers should head over to the Disney Bundle offer, as that package offers access to Disney+, Hulu, and ESPN+ for one convenient subscription. And that's no lion... it's a cheetah!
Senior Movies Contributor
CinemaBlend's James Bond (expert). Also versed in Large Scale Aggressors, time travel, and Guillermo del Toro. He fights for The User.