Jungle Cruise Reviews Are Online, Here's What Critics Are Saying About The New Dwayne Johnson Movie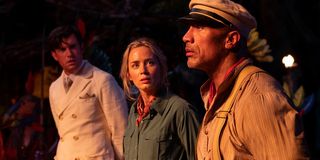 Disney's next blockbuster is almost here. Dwayne Johnson and Emily Blunt star in Jungle Cruise, which is based on the Disney theme park ride (and movies based off of theme park rides have done pretty well in the past, ahem, Pirates of the Caribbean). The film was directed by Jaume Collet-Serra (House of Wax, Orphan) and also features Edgar Ramírez, Jack Whitehall, Jesse Plemons, and Paul Giamati. In the adventure flick set during the early 20th century, a riverboat captain named Frank (Johnson) takes a British scientist (Blunt) and her brother (Jack Whitehall) on a mission into a jungle to find the Tree of Life-- which is believed to possess healing powers that could greatly benefit modern medicine. Along the journey, the trio must fight against dangerous wild animals, a deadly environment, and a competing German expedition that is determined to reach the tree first.
The Disney blockbuster had its premiere at Disneyland this past weekend, which seemed to be a pretty fun time, and we also saw early reactions to the film on social media, which were pretty positive overall. While it doesn't release until this Friday, July 30 (in theaters and on Disney+ Premier Access), the review embargo has broken and critics are starting to share their thoughts. Let's see what they're saying.
We'll start with the home team, as always. Our very own theme park expert Dirk Libbey loved Jungle Cruise, rating it 4 out of 5 stars. He enjoyed Johnson and Blunt's "remarkable" chemistry, noting that you can clearly see how much fun they had making this adventure flick. He also applauded Whitehall's performance, along with the non-stop action throughout. While Libbey did note that the film has too many villains and can't devote enough time to any of them to fully develop, he really enjoyed it overall, saying:
David Rooney of The Hollywood Reporter was less impressed with Jungle Cruise. While he did enjoy the chemistry between Blunt and Johnson and commended Whitehall's performance, he thought both the storyline and action were too complicated and hard for viewers to keep up with. Rooney said:
Owen Gleiberman of Variety enjoyed the Disney blockbuster quite a bit. He praised the lead duo like we've seen in every review so far (there seems to be a pattern in these reviews), noting that at some points throughout the film, you almost feel like you're in a romantic comedy. Gleiberman said:
While Josh Spiegel of SlashFilm thought that the fantasy film was "a solid summer action film," he thought it wasn't as good as its many cinematic inspirations, such as The African Queen, Indiana Jones, and The Mummy. He also criticized the immense amount of CG, noting that there are many moments where the real people in the shot highlight how unreal the technology is. Spiegel did enjoy Plemons' character, calling him the highlight of the movie, and somewhat enjoyed it, saying:
Leigh Monson from WhatToWatch also criticized some of the "hokey" CG effects in Jungle Cruise. She also thought the film's biggest weakness was Whitehall's character, a character that the movie didn't quite seem to know what to do with. But she thought those weaknesses didn't stop the blockbuster from being a blast. She thought Blunt and Johnson had so much chemistry that it was "hypnotic," and enjoyed the film overall, saying:
Well, critics seem to have mixed opinions about Jungle Cruise, though the reviews skew towards the positive. You'll soon be able to see the blockbuster for yourself when it releases in theaters and on Disney+ Premier Access this Friday, July 30.
Before you head out to see the Disney adventure film this weekend, check out our 2021 movie release guide to plan your next movie-going experience.
Your Daily Blend of Entertainment News