What's Going On With Jumanji 4? Here's What Dwayne Johnson's Producing Partner Says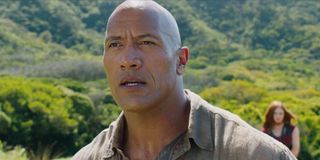 Transforming a beloved children's book into a multi-million dollar movie franchise can't be an easy endeavor. But the team behind the Jumanji film series seems to have figured out a pretty good formula. The 21st century reboot has proven to be successful, thanks in large part to the star power of its cast, led by Dwayne Johnson. The actors' producing partner has signaled that fans can expect more to come, too, after giving an update on where things stand with Jumanji 4.
It seems like Jumanji is still a priority for Dwayne Johnson, who co-produced The Next Level alongside Hiram Garcia and several others. Garcia recently told Collider that the creative team behind the franchise is hard at work making sure that Jumanji 4 is the best it can possibly be:
It's been nearly four years since Jumanji: Welcome to the Jungle hit theaters and ushered in a whole new era for the film franchise, which began with 2005's Zathura: A Space Adventure. After the massively successful follow-up, Jumanji: The Next Level, it seemed like a sure bet that a fourth installment of the series would be in the cards. But it's easy to see why Jumanji 4 might be a bit of a logistical challenge, what with an ongoing pandemic and an ensemble cast that's in huge demand.
Still, Hiram Garcia seems pretty confident that Jumanji 4 is a "when" and not an "if" kind of project. It's good to hear they're taking the time to get things right, too. While it hasn't been officially confirmed, it seems likely that most of the core cast, including Johnson, Kevin Hart, Karen Gillan and Jack Black, will be returning for the next chapter of the series.
But, that means finding time to gather the actors back together again. All four have been hard at work on other projects, like Dwayne Johnson's Black Adam and Kevin Hart's new TV talk show. Jack Black also has some big things in the pipeline and of course, Karen Gillan is keeping busy in the MCU.
Since it sounds like nothing concrete is in the works yet for Jumanji 4, the actors should get plenty of notice to clear their schedules when the time finally comes for them to reunite. We'll be sure to keep you updated about any new developments for the Jumanji franchise.
Your Daily Blend of Entertainment News