Upcoming Jack Black Movies And More: What's Ahead For The Jumanji Star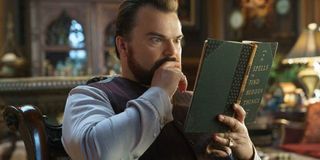 For nearly 30 years, Jack Black has remained a reliable ball of energy, channeling his fun-loving charisma in a variety of notable projects, both on the big and small screen. His manic screen presence carries an undeniable charm, filled to the brim with crude heart, joyful exuberance, and good-hearted goofiness. While he has had a few misses over the years, Jack Black's best movies, whether it's School of Rock, High Fidelity, Bernie, and the Kung Fu Panda films, typically showcase his wicked charm with aplomb. While the Jumanji actor flirted with retirement, the world-famous actor/YouTuber remains busy with a number of new projects, all while he keeps an active YouTube page with regular content. If you love Black, here's what's coming up next, including Borderlands.
Apollo 10 1/2 - TBA 2022 (Post-Production)
Under Richard Linklater's dependable vision, Jack Black has crafted two of his finest performances. Specifically, through the acclaimed filmmaker, Black's undeniable star power was utilized (or even arguably weaponized) in entertaining and electrifying ways in School of Rock and Bernie, showcasing a winsome star-director team who should collaborate much more often. Sadly, it's been a whole decade since their last pairing.
Thankfully, Jack Black and Richard Linklater will be reunited once again with Apollo 10 1/2, an intriguing coming-of-age animated movie that's inspired by the director's own childhood. Centered around two interwoven perspectives against the backdrop of the 1969 Apollo mission, Apollo 10 1/2 follows the daring astronauts who embarked on the mission and a child who watches from a ground-level perspective. Mixing reality and vibrant fantasy, it's hopefully another singular hit from the well-proven Texan filmmaker.
Though it's unclear who Jack Black plays in this Netflix movie, the actor will be joined by other reliable talents, including Zachary Levi, Glen Powell, and Josh Wiggins. With its split perspective and mix of animation styles, Apollo 10 1/2 will hopefully be another out-of-this-world triumph for Black and the esteemed filmmaker. Following the recent and rare disappointment of Linklater's previous film, Where'd You Go, Bernadette, the filmmaker could definitely use another win, and this personal project has the potential to provide an emotional wallop with some elevated animation dazzlement to boot. It's unclear when it's expected to hit the service, though it's looking to launch sometime in 2022. Of course, that's not to rule out the possibility that it makes its way onto Netflix this year, which would provide Netflix with (one hopes) yet another animation standout.
Borderlands - TBA 2022 (Post-Production)
Similar to how it was a given that Jack Black's voice would eventually lend his talents to a hot video game release (more on that later in the list), it was inevitable that the comedic actor would lend his pipes to a much-anticipated video game movie adaptation. While one could relatively argue that the School of Rock comedy star already frontlined a video game movie with Jumanji: Welcome to the Jungle and The Next Level, Borderlands will technically serve as Black's first official foray into video game adaptations. Admittedly, the troubled genre has seen mixed (at best) results more often than not, but this newest one has more promise than most — particularly with the cavalcade of A-list attached to this bombastic blockbuster.
Starring Cate Blanchett as Lilith, a.k.a. "The Siren," Borderlands' supporting ensemble includes Kevin Hart, Jamie Lee Curtis, Ariana Greenblatt, Gina Gershon, Bobby Lee, and the voice of Jack Black as Claptrap. Thus, this adaptation will serve as a reunion for Black in two ways. He'll reunite with both Blanchett and director Eli Roth after 2018's The House with a Clock on Its Walls and with Hart after the two recent Jumanji movies.
Oh Hell No! - June 17th, 2022 (Pre-Production)
Particularly with calling the shots on Adult Swim's The Eric Andre Show, Kitao Sakurai has demonstrated an exceptional knack for making anarchic comedy with untamed mania and a gleeful and vigorous disdain for civility and common manners. Likewise, this year's Bad Trip continued the rambunctious spirit of the ever-popular series, albeit with careful care put into balancing reality with fiction — specifically when it comes to integrating person-on-the-street pranks into the loosey-goosey structure of a traditional buddy road trip romp. The results were endearing and often uproarious. So much so that the director will now direct a studio film with Oh Hell No!, Sony's upcoming comedy centered around a man named Sherman (Jack Black), who falls in love with Will's (Ice Cube) mother, much to Will's distress. Not much is known about the movie otherwise, but we know that it's slated for June 17th, 2022, with Black also on board to produce.
While the logline is deliberately simple, Kiato Sakurai's antic-ready style of kookiness should allow these comedy stars to get a lot of mileage out of such a silly concept. Certainly, Jack Black got to experience Sakurai's brand of mayhem first-hand when he memorably sat in the hot seat in The Eric Andre Show's Season 4 finale. Production on Oh Hell No! is expected to start soon, though it's unclear if the actor's recent injury on Conan might ultimately push filming back. Hopefully, we should expect cameras to roll soon — particularly if the crew wants to meet that impending June 17th, 2022 deadline.
Jumanji 4? - TBA (Speculated)
Will we get another Jumanji movie? Sony has oddly been shy about the matter, but it seems like a given. Having grossed $800 million worldwide, Jumanji: The Next Level proved to be one of 2019's biggest box office hits, even if it didn't match Jumanji: Welcome to the Jungle's nearly $1 billion take-in. Therefore, while the movie hasn't been officially greenlit yet, there's good reason to believe that Jumanji 4 — or is it technically Jumanji 3? — will smash and crash its way into theaters someday soon.
Likewise, we should expect Dwayne "The Rock" Johnson, Karen Gillan, and Kevin Hart to return for another perilous video game adventure. What a sequel will entail remains to be seen, but the chips were put in place at the end of the second movie, so we have a rough blueprint for what will go down this time around. When we'll see it — assuming we get it, of course — isn't determined, but we'll keep you posted on the latest details.
Psychonauts 2 - Video Game - August 25th, 2021 (Post-Production)
Through his prominent YouTube channel (which we'll discuss in more detail later), Jack Black has almost inexplicably become one of the most famous YouTubers gamers on the web today. Thus, it was only a matter of time before the actor's familiar vocal cords made their way into a prominent video game. Now, the time has finally come with Psychonauts 2, the crowd-funded sequel to 2005's fan-favorite platform video game.
Lending his voice to the role of Mote of Light, this video game sequel won't be Jack Black's first video game voice role, notably as he was the figurehead behind 2009's Brütal Legend. That said, the upcoming release will be one of his most high-profile projects following the rocketing success of his high-energy YouTube channel. Whether this second career success will launch more vocal appearances in other games remains to be seen — or, rather, heard. Whenever the long-awaited Psychonauts 2 is available to purchase, though, don't be surprised when you hear Black's voice blaring out of your speakers.
Jablinski Games YouTube Channel
Outside of his various acting commitments, Jack Black has also, quite amusingly, kept an active and thriving YouTube account known as Jablinski Games. The rambunctious, rapid-fire videos, which favor his volcanic spirit, typically capture the eccentric joy, rage, enthusiasm, theatricality, and bubbling energy that we've come to expect from Black as a movie star. It should come as no surprise, then, that the channel is a major success.
Black's portfolio is filled with at least a few more acting gigs, as listed above. However, if the day comes that he wants out of acting, though, Jablinski Games could certainly be an active and entertaining way for him to stay close to the nest, while keeping a massive (and growing) audience. His channel currently has nearly 5 million subscribers.
Jack Black's Recent Projects
Most recently, Jack Black went back into the game with Jumanji: The Next Level, the sequel to 2017's Jumanji: Welcome to the Jungle. Additionally, during his short-lived "retirement," Black provided a cameo in Quibi's Home Movie: The Princess Bride, as well as Netflix's Waffles + Mochi. He can also be heard in Tony Hawk's Pro Skater 1 + 2. Additionally, away from acting, Black produced Happily. He was also the host and executive producer behind NBC's Celebrity Escape Room special. As a musician, furthermore, Tenacious D provided a single for The Croods: A New Age. He and Kyle Gass also lent their hard-rocking chops to "Time-Warp: Tenacious D Rock-Y the Vote."
Certainly, while the prolific actor-musician keeps himself busy, Jack Black reportedly wants to spend more time working close to home in order to stay near his family — particularly during his kids' adolescent years. With that noted, it's possible that Black will opt to stay away from major, world-spanning blockbusters in the years moving forward, but we'll have to wait and see what this multi-talented actor has in store in the years to come.
This poll is no longer available.
Your Daily Blend of Entertainment News
Will is an entertainment writer based in Pittsburgh, PA. His writing can also be found in The Playlist, Cut Print Film, We Got This Covered, The Young Folks, Slate and other outlets. He also co-hosts the weekly film/TV podcast Cinemaholics with Jon Negroni and he likes to think he's a professional Garfield enthusiast.