Harry Potter's Lavender Brown Actress Jessie Cave Talks Weight Gain On Deathly Hallows, And How People Implied They Weren't Happy With Her New Size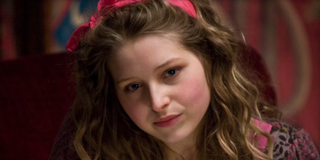 Growing up on screen is a unique challenge. While young actors and actresses get to experience the glory of the limelight, they also deal with intense pressures. That was the case for actress and new mom Jessie Cave, who played Lavender Brown in Harry Potter. She recently opened up about gaining weight before filming Deathly Hallows, and how she dealt with the unhappy reaction she received about her new size.
Jessie Cave revealed that between filming Harry Potter and the Half-Blood Prince and Harry Potter and the Deathly Hallows, she gained a bit of weight. Her change in appearance also changed the way she was treated by people in the film industry. While she explained to The Guardian that she was never directly told to lose weight, one costume designer grabbed her stomach during a fitting:
Many of the Harry Potter cast members have spoken about experiencing some growing pains while filming the blockbuster series. From feeling the awkwardness of their teenage years on screen to struggling to adjust to life after the series, their experiences have helped highlight the more human part of being a child celebrity. That's true for the marquee actors like Harry Potter himself, Daniel Radcliffe. But it's also true for the supporting players, too.
Jessie Cave's candor about her experience is brave -- and reveals another anecdote from a not-so-hidden downside of the entertainment industry. She has spoken about the insecurity she felt returning to the Harry Potter set after gaining weight -- which, she pointed out, is a normal thing to happen when someone is growing during their teenage years.
The actress told The Guardian that she's felt pressure to change her appearance in order to keep working in the film industry -- and that she's noticed she tends to get cast more when she loses weight. Rather than succumbing to the pressure completely, though, she stayed committed to eating healthy and leaned into being typecast in "quirky" roles, which has helped her navigate her post-Potter career.
Jessie Cave has also stayed busy by doing more than just acting. She sells illustrations on her website, and has published several books, including Sunset, a best-selling memoir about her grief following her brother's death.
Your Daily Blend of Entertainment News
Thank you for signing up to CinemaBlend. You will receive a verification email shortly.
There was a problem. Please refresh the page and try again.