The Rihanna Cameo That Was Written For Adam Driver's Musical Annette Sounds Completely Bonkers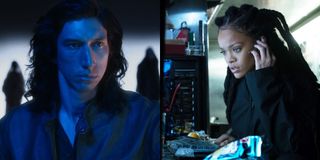 The words "completely bonkers" already seem to fit when it comes to describing Adam Driver and Marion Cotillard's new musical Annette. With French filmmaker Leos Carax and music icons Ron and Russell Mael, the duo collectively known as Sparks, crafting a story of surreal celebrity culture, it was only a matter of time before stories of just how crazy this film gets made their way out. But apparently, it could have been a nuttier experience, thanks to a cameo written for Rihanna that was, sadly, cut from the film.
As Annette centers around the titular child's "exceptional destiny," and how it wears on the relationship between her parents, music is a linchpin for the entire experience. So naturally, hiring someone like Rihanna to play around in that special world is a pretty awesome concept, if you're able to make it work. Were the recording star/actor to have played her part in the film, here's what what we could have seen, as revealed by co-writer/director Leos Carax to USA Today (opens in new tab):
It's unknown why Rihanna was eventually absent from Annette's production, but after several months of being attached to the film, she was simply reported as no longer being part of the cast. That fact is an absolute shame, because not only has Rihanna proven she's adept at taking crazy leaps like the role of an alien stripper in Valerian and the City of a Thousand Planets, the fact that she'd be singing a Sparks song to boot is a beautiful what if. Though maybe that could have been the moment that really pushed Annette into the world of "too crazy."
Word on the street is that if you're even marginally interested in Annette, you should go in as cold as possible. But with that in mind, Rihanna singing with a puppet child does, indeed, fit the bill of "completely bonkers". And that's also considering the fact that Adam Driver has a musical number where, while he's singing, he's performing oral sex on Marion Cotillard. So you may have to take Mr. Driver off of your list of hopefuls to eventually play the role of Batman.
Talking about Annette is one thing, but actually seeing it is an experience in and of itself, based on the word that's gotten out. And right about now, you're probably curious about how bonkers of a film Leos Carax and Sparks have actually made. Well, Adam Driver and Marion Cotillard fans, you can watch the trailer for the movie that allowed Mr. Driver to have a rather infamous smoke break, as it is provided below:
Already cultivating a reputation for a movie that seems destined to be a cult classic, Annette will now go down in history as a lost Rihanna performance that we almost got to see. Maybe one day, if fate allows, Sparks, Leos Carax, and Rihanna will get together and do a music video version of this cut number, to satisfy the public's curiosity. Though who knows? Maybe these potential collaborators will create a new film altogether that'll get the public talking, while their toes are tapping.
For you curious folks that are looking to get Annette into your eyes, you're in luck! As of now, the film is playing in a limited theatrical release, so if you feel like a big screen experience, check your local listings accordingly. However, if you want to see the film in the comfort of your own home, it is an Amazon Original, which will make its streaming debut on August 20th. Which means you'll have plenty of time to check the upcoming Adam Driver movie schedule, should you be a devoted fan who doesn't want to miss a moment of the man's work.
Senior Movies Contributor
CinemaBlend's James Bond (expert). Also versed in Large Scale Aggressors, time travel, and Guillermo del Toro. He fights for The User.
Your Daily Blend of Entertainment News
Thank you for signing up to CinemaBlend. You will receive a verification email shortly.
There was a problem. Please refresh the page and try again.