Tom Hanks' Finch: Release Date, Cast, And Other Quick Things We Know About The Apple TV+ Movie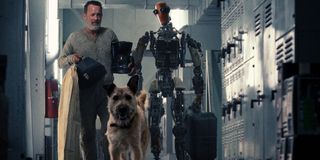 An aging man, a wayward robot, and a loyal dog roam the apocalypse wastelands in search of human life. Their journey is the basis for Apple TV+'s Finch, the second Tom Hanks vehicle to be hosted on the streaming service after 2020's Greyhound. Acquired by the company earlier this year, the delayed original sci-fi film will be available to watch from the comfort of your home in November, in lieu of a theatrical release, and we're learning more details about the intriguing movie as we near closer to that date.
Here's what we know (so far) about Apple TV+'s Finch (previously titled BIOS.)
Finch Will Premiere On Apple TV+ On November 5, 2021
Over the past troubled year, Tom Hanks has entered the streaming era. His WWII drama, Greyhound, which he also wrote, was acquired by Apple TV+ during the COVID-19 pandemic. And the global conglomerate appears to be happy with that movie's success for their service because they've acquired Finch, the latest Hanks starring vehicle. Additionally, we've got a release date for the original dystopian sci-fi drama: November 5th. Sadly, Finch won't get a theatrical release at this time. With that said, everyone who loved the easy access of Greyhound will certainly be happy to hear this exciting acquisition news.
The Movie Stars Tom Hanks And Caleb Landry Jones
As noted before, Tom Hanks is at the forefront of Finch, playing the title character and (seemingly) the only human we'll see on screen for the majority of the film. Additionally, Caleb Landry Jones is attached to play Jeff, a robot built by our lonely title character to keep him company and to keep an eye on his furry friend, especially when it becomes clear that Finch might not have long to live during a dangerous time.
While Jones isn't quite as famous as his co-star, he has certainly earned acclaim for a number of roles, including (but not limited to) Get Out, The Last Exorcism, Heaven Knows What, The Florida Project, Antiviral, and Three Billboards Outside Ebbing, Missouri. Also, Jones is known for his performance as Sean Cassidy, i.e. Banshee, in X-Men: First Class. Most recently, he won Best Actor at the 2021 Cannes Film Festival for his lead role in Nitram.
Finch Follows A Man, A Robot, And A Dog On A Quest To Ensure That The Canine Is Cared For In A Dystopian World
A robotics engineer named Finch (Tom Hanks), who's among the select few survivors of a cataclysmic solar event that has turned the known world into a wasteland, has lived underground for a decade, with only his trusted canine companion, Goodyear, to keep him company. He has built an android named Jeff (Caleb Landry Jones) to keep an eye on the dog when Finch is no longer able to care for the pooch. Over the course of a perilous journey, Finch attempts to show Jeff what it means — or what it meant — to be alive. The trek they embark upon is both perilous and humorous, particularly as they manage the dangers and the absurdities of life born anew. That's the plot synopsis for Apple TV+'s Finch, and it sounds like it could be a thoughtful, heartfelt, moving film.
It's Directed By Games Of Thrones' Miguel Sapochnik
You might not recognize the name, but you're probably familiar with Miguel Sapochnik's work. Most notably, he won an Emmy for directing "Battle of the Bastards" for HBO's Game of Thrones. He also helmed several other installments of the series, as well as episodes of House, Fringe, Banshee, True Detective, Altered Carbon, and Iron Fist. Additionally, Sapochnik helmed 2010's Repo Men and he's currently the co-showrunner and executive producer of HBO's upcoming Game of Thrones spin-off series, House of the Dragon. And with Finch, the award-winning filmmaker made his sophomore feature.
Finch Comes From Executive Producer Robert Zemeckis
Tom Hanks and Robert Zemeckis go back a long time. Decades, in fact. Having helmed 1994's Forrest Gump, which resulted in Hanks' second Oscar win, Zemeckis later cast the acclaimed actor in Cast Away and The Polar Express, and they'll soon be reunited with Disney's Pinocchio. Additionally, the Oscar-winning director is also an executive producer on Finch, which marks the first collaboration between Hanks and Zemeckis in nearly two decades. Thankfully, with their next two movies not too far on the horizon, we should hopefully expect these two to stay in close company for the foreseeable future.
It's An Original Script From First-Time Screenwriter Craig Luck
At a time when reboots, remakes, and sequels rule the land, it's becoming increasingly rare to see an original blockbuster made in the studio system. They're a bigger gamble, with no guaranteed audience or traceable expectations. Sometimes, only a certified A-list star can get them off the ground. Thankfully, that appears to be the case with Finch, an original script from first-time screenwriter Craig Luck.
While Craig Luck isn't a Hollywood newbie, as he worked as a video assistant for Jason Bourne, Doctor Strange, Mission: Impossible — Rogue Nation, and Solo: A Star Wars Story, to name only a few of his credits, the scribe hasn't gotten a script through the door... until now. Hopefully, Finch continues to elevate his career moving forward. Hell, maybe it'll inspire studios to pursue more original properties? Only time will tell there.
Finch's Supporting Cast Includes Skeet Ulrich, Laura Harrier, And Samira Wiley
In addition to Tom Hanks and Caleb Landry Jones lending their talents to the lead roles, Finch is also set to star Skeet Ulrich, Laura Harrier, and Samira Wiley in supporting parts. Specifically, Ulrich will play Sam, Harrier will appear as Linda, and Wiley will be seen as Weaver, who's known as "a survivor." Not much else is known about their characters yet, but that will soon change, as we near closer to its November release.
It Was Delayed Several Times
It hasn't been an easy road for Finch. Shot in early 2019, the sci-fi movie was previously scheduled to arrive in theaters on October 2, 2020 before the COVID-19 pandemic delayed the debut. The date was later shifted to April 16th, 2021, then August 13th, 2021, then August 20th, 2021, before Universal decided to sell the movie to Apple TV+, where it'll forgo a theatrical release altogether. While it's a great shame that Finch won't be shown in theaters, at least the upcoming film is finally making its way to audiences after a long, uneasy journey.
Finch will stream on Apple TV+ on November 5th.
Your Daily Blend of Entertainment News
Will is an entertainment writer based in Pittsburgh, PA. His writing can also be found in The Playlist, Cut Print Film, We Got This Covered, The Young Folks, Slate and other outlets. He also co-hosts the weekly film/TV podcast Cinemaholics with Jon Negroni and he likes to think he's a professional Garfield enthusiast.