Tom Hanks' Sci-Fi Dog Movie Has Been Affected By Wonder Woman's Date Change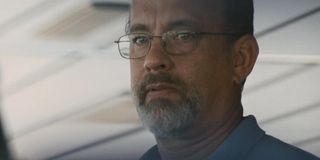 Tom Hanks was one of the first famous people to contract COVID-19 back in March. His diagnosis and subsequent recovery marked a point at which many people started to realize how serious and widespread the pandemic was becoming. Now, the virus has not only affected his health, it's also having a continued effect on his career because one of his upcoming films has been pushed back to accommodate Wonder Woman 1984's new release date.
The next installment in the Wonder Woman franchise was originally due in theaters on June 4, but Warner Bros. pushed it back to August of this year when it became clear that COVID-19 wasn't going anywhere. Now, the studio has once again moved Wonder Woman 1984's release date to October 2, 2020 -- and that's seemingly caused other studios to shift their release dates as well.
Bios, from Universal Pictures, was originally slated to hit theaters that day but, per THR, it has now been pushed back to April 16, 2021. The sci-fi film, which also stars Caleb Landry Jones, Laura Harrier, Skeet Ulrich and Samara Wiley, tells the story of the last man on Earth, an inventor who builds a robot to keep him company and takes it on a journey. It's understandable why Universal Pictures would want to delay the release of Bios, as Wonder Woman 1984 is likely to do some huge numbers when it finally hits theaters.
This isn't the only Tom Hanks film that's been affected by the COVID-19 pandemic and subsequent Hollywood schedule shuffling. He was working on Graceland, Baz Luhrmann's upcoming Elvis biopic, in Australia when he contracted the virus, and that film's production was shut down shortly after. It has yet to resume filming, though it looks like it may get a green light soon.
Bios isn't the only film that has seen a change in release dates despite the fact that it was finished filming when the pandemic hit. Dozens of movies have been delayed, for a variety of reasons. Huge tentpole films like No Time To Die, Mulan and Black Widow pushed back their early spring release dates, for obvious reasons. That caused a domino effect of sorts, as studios like Marvel had to reconfigure their entire long-term release schedule in order to stay on track.
While we have to wait a while longer to see Bios, we will still get to see Tom Hanks on our screens this year. His World War II-era film Greyhound, which was originally scheduled to hit theaters in June, will make its debut on Apple TV+ later this summer. And the beloved actor has been doing what he can to help the world get back to normal post-COVID-19 -- he recently shared that he and Rita Wilson have been donating their plasma to help find a cure.
CinemaBlend is keeping track of all the changes to 2020 movie releases. Make sure to check out our guide to stay in the loop.
Your Daily Blend of Entertainment News
Your Daily Blend of Entertainment News
Thank you for signing up to CinemaBlend. You will receive a verification email shortly.
There was a problem. Please refresh the page and try again.