Arnold Schwarzenegger Uses His Huge Biceps And Mark Hamill Uses Star Wars Memes To Explain Why Fans Should Listen To Doctors About Covid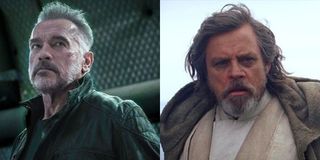 With a pair of giant biceps and an extensive arsenal of Star Wars memes comes great responsibility. While Arnold Schwarzenegger and Mark Hamill may not be doctors, they're using what they know to raise awareness. The beloved stars have been using their specific superpowers (biceps and memes, respectively) to warn the public about the dangers of COVID-19 and why it's important to listen to medical experts - especially now that the COVID-19 vaccine is more widely available than ever before.
Arnold Schwarzenegger recently joined Alexander Vindman and Bianna Golodryga of CNN to discuss the former's new book, Here, Right Matters: An American Story. The former governor of California took the opportunity to clarify a statement he'd made earlier that week, where he called out Americans who are against wearing masks. It was during this conversation that he sought to get his point across, using a particularly apt comparison to his legendary arm muscles:
Looking at the Terminator star's insanely ripped arms, he makes a firm case. Dude definitely knows how to build a bicep. But Star Wars star Mark Hamill has found another unique way of discussing COVID-19 with his Twitter followers. The humorous actor has been using humorous comparisons to Darth Vader to keep his followers informed. Here's a recent Star Wars meme Hamill recently posted on Twitter:
There's just so much to unpack here. The usage of the punny phrase "maskhole." The grainy screenshots of the original Star Wars trilogy. The countless replies involving pictures of Darth Vader. Mark Hamill has often used his Twitter to spread political and socially conscious messages, usually ones that have a humorous spin and relate to Star Wars.
In the past, Mark Hamill and Arnold Schwarzenegger haven't hesitated to use their highly-trafficked social media accounts to promote the issues that are important to them. Schwarzenegger has used his platform to discuss issues such as gerrymandering, climate change, and social inequality.
Meanwhile, Mark Hamill was extremely vocal about his support of Vermont senator Bernie Sanders. He also had a field day posting memes about the latter's infamous striped gloves and surplus store parka at the inauguration of President Joe Biden.The two may not be super-strong robots or Jedi in real life, but it's certainly interesting to see how they speak up on what they believe in.
Actor, singer, and occasional dancer. Likes: fashion, books, old buildings. Dislikes: cilantro, the NJ Turnpike, sneaker wedges.
Your Daily Blend of Entertainment News
Thank you for signing up to CinemaBlend. You will receive a verification email shortly.
There was a problem. Please refresh the page and try again.