The Kissing Booth 3 Ending Explained: Who Does Joey King's Elle End Up With After The Netflix Trilogy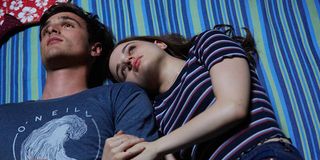 (Image credit: (Netflix))
SPOILERS are ahead for The Kissing Booth 3.
And just like that, it's time to say goodbye to another teen-driven Netflix trilogy. Earlier this year, we said our goodbyes to Lara Jean and Peter Kavinsky for To All The Boys: Always and Forever and now we're turning our waves over to Joey King's Elle as she made her college decision and The Kissing Booth movies found their bittersweet conclusion. Let's get into how things left off with The Kissing Booth 3 ending and what it means for the relationships at the center of the movies.
Three years following The Kissing Booth becoming a huge hit on Netflix, we've seen the last of Joey King's Elle and the rest of the young cast with an ending to a story revolving around her high school friendships and romance with Jacob Elordi's Noah. Throughout the movie, Elle is stuck between her plans to move in with her boyfriend for college and attend Harvard or stay true to the childhood plans to go to college with her best friend Lee, who is going to Berkeley. The last moments of the series divided people on how The Kissing Booth 3 left audiences, which makes for the perfect topic to talk through here.
What Happened At The End Of The Kissing Booth 3
Elle's plans for much of the film is to go to Harvard with Noah, but little does Noah or Lee know that she also got into Berkeley and could go with her best friend too. The Kissing Booth 3 takes place during the summer before their first semester of college. Dealing with the fallout of not keeping her promise to Lee to go to college with him, she promises they will complete their childhood bucket list that they had crafted together as kids. As Elle and Lee enjoy their summer doing fun activities like pie eating, paragliding and flash mobbing, it puts a strain on Elle's relationship with Noah and ultimately he asks her not to go to college with him unless it's her own choice.
This leads Elle to do some soul searching and realize that she's been making all her future decisions based on other people instead of tapping into her own wants and needs. Elle then decides to apply for college in USC to major in game design. She nails the interview and gets into the Los Angeles college for the spring semester. Elle and Noah break up, Lee goes off to Berkeley and Elle carves her own path at USC. Then, The Kissing Booth 3 fast forwards six years. Elle has just graduated college and is developing her own game and rocking a pixie cut as she visits her old stomping grounds. She runs into Noah, who is choosing between jobs in Los Angeles and New York. The movie ends with Noah asking her if she'd like to join him on a motorcycle ride when he's back in town for a major wink wink our way.
Will Elle And Noah Get Back Together?
The Kissing Booth 3 ending leaves the audience with a bit of an open-ended question. Will Elle and Noah rekindle their love for each other after getting back in contact after graduating? It's not made clear in the movie and looks to be up to the viewer to decide. And seemingly, it could be the perfect time for the pair to pick up where they left off. The reason why it didn't work out between them before was because Noah realized that Elle was picking him over herself and as he told her: "I don't want to be one of the people who makes you put yourself last."
Elle learned a valuable lesson throughout The Kissing Booth 3 that finding herself is a journey she has to make on her own and that meant giving up on her high school love story. Both Elle and Noah assumedly have matured and had other relationships during college, putting them at a better place to make a decision on a long term relationship than when they were high school seniors. Overall, it seems the ending is more so about the message of choosing oneself first, and perhaps the right timing being more important when it comes to relationships.
And What About Her Friendship With Lee?
Elle's decision to go to USC also affects her relationship with Lee. When he finds out that she had also been offered admission to go to the same school as him (as they had dreamed of as kids) and still chosen to go with her boyfriend and his older brother, his feelings were hurt. While it causes a rift between them at first when Elle decides to go to a Los Angeles university instead, Lee ultimately decides to stick to one rule in their friendship. As No. 19 states: Always be happy for your bestie's successes. Thus, Elle has Lee's support as she paves her own path after high school.
As one would hope with any best friend, Lee is forgiving and supportive of Elle's ultimate decision. The pair continue to stay in contact despite the distance between them.
Why Did The Kissing Booth 3 End Ambiguously?
Before we bid adieu to The Kissing Booth once and for all, let's come back around to that time jump that brings Elle and Noah back in contact and then leaves us hanging. The ambiguous ending was purposeful by the filmmakers, including Joey King, who was an executive producer on The Kissing Booth 3. When speaking to Variety about the conclusion, King said this:
There you have it. Whether Elle and Noah do find themselves back together is up to whether you'd like them to be together. It's an unconventional way to end a series like this, but not unlike All The Boys' route. What do you think? Did you like the ending to The Kissing Booth 3? Vote in our poll below.
This poll is no longer available.
YA genre tribute. Horror May Queen. Word webslinger. All her writing should be read in Sarah Connor's Terminator 2 voice over.
Your Daily Blend of Entertainment News
Thank you for signing up to CinemaBlend. You will receive a verification email shortly.
There was a problem. Please refresh the page and try again.