Netflix's He's All That Reviews Are Live, See What Critics Are Saying About Addison Rae's RomCom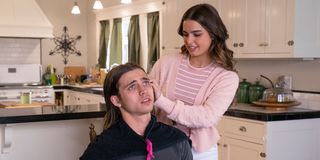 It's been years since She's All That captured the hearts of millennials, and now an updated remake of the 1999 film is about to be released. In He's All That, a teenage girl named Padgett is humiliated by her boyfriend and then sets out to avenge herself by giving a classmate the ultimate high school makeover. Directed by Mark Waters, the rom com stars TikTok star Addison Rae, Tanner Buchanan, Madison Pettis, Peyton Meyer, and Isabella Crovetti.
The trailer had fans at odds, so we'll have to see what everyone thinks after watching the film. He's All That is available on Netflix now, so you can check it out yourself. Critics have started to share their reviews of the romcom, so let's check them out.
Let's start with the home team. CinemaBlend's Sarah El-Mahmoud was pretty disappointed with He's All That, rating it 2 out of 5 stars. She argued that the twist in the film of Padgett giving her classmate Cameron a makeover doesn't even make any sense because he's already attractive and kind of cool, so there's no point. She thought Buchanan, who plays Cameron, carried the film and demonstrated that he's a solid actor, but she thought the short cameos of Rachael Leigh Cook and Matthew Lillard (from She's All That) was more a waste of their time and a disgrace to the legacy of the original film. El-Mahmoud said:
Robyn Bahr from The Hollywood Reporter, a fan of the original film, enjoyed He's All That. She considers it as much "silly fun" as its predecessor. Bahr commended many aspects of the romantic comedy, from the pacing to the "cute" chemistry between Rae and Buchanan. She especially praised Buchanan's performance, stating that he reminded her of a young Val Kilmer. Overall, she said:
Mary Sollosi from Entertainment Weekly did not have many positive things to say about the comedy, noting that it doesn't live up to the original. She thought that the new film's biggest mistake was casting TikTok star Rae in the guru role, and that there was no actual emotional arc or growth of her character Padgett. Sollosi also criticized the production and wardrobe of the movie, and said overall:
Sonia Rao from The Washington Post also criticized Rae's acting in He's All That. She thought Rae didn't offer much to viewers, with no vocal inflection or facial expressions that would give more depth to Padgett. While Rao did note that Buchanan tried his best with what he was given in the script, she overall thought the film was a flop, saying:
The acting in the rom com is again criticized in Adam Graham's review for The Detroit News. Graham noted that it's a good thing that He's All That doesn't ask much of Addison Rae, because "she isn't much of an actress." He was disappointed that the movie could have addressed societal issues, like the "emptiness of social media," but completely side stepped taking any real stand. Graham said:
Ryan Lattanzio from IndieWire thinks that the remake lacks the charm of the original, and had many criticisms in his review. He commented that there were many soulless aspects in the movie, from Padgett's lack of character development to the cinematography, which he thought looked like it was rigged with ring lights. Lattanzio also noted that the film missed its opportunity to take a stand on societal issues, like we've seen in other critics' reviews. Overall, he said:
Well, that was... bleak. It seems that most critics don't think He's All That is all that. But you can form your own opinion today, as the rom com is available on Netflix now.
You can also check out everything else coming to Netflix next month with our release guide.
Your Daily Blend of Entertainment News
Thank you for signing up to CinemaBlend. You will receive a verification email shortly.
There was a problem. Please refresh the page and try again.