Reminiscence's Hugh Jackman Recalls 'Favorite Memories' From Shooting The Sci-Fi Movie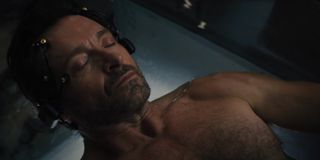 Sometimes, an actor's time on a movie set can be pretty stressful. They deal with long hours, big egos, and plenty of logistical challenges (especially during the COVID era). So, it's always good to hear when a star had an especially positive experience making a movie. That seems to have been the case for Hugh Jackman while he was filming his new sci-fi noir film Reminiscence -- and he has plenty of awesome memories to prove it.
Reminiscence, directed by Westworld's co-creator Lisa Joy, imagines a world where climate change has flooded cities and left many people longing for the past. Nick Bannister (Hugh Jackman) and Emily "Watts" Sanders (Thandiwe Newton) operate a machine that allows people to relive their memories. But that same machine becomes key to Nick's life after his former lover, Mae (Rebecca Ferguson), goes missing. He becomes obsessed with not only reliving their time together but also looking for clues in the present and the past to figure out what happened to her.
The film features some amazing special effects that allow viewers to see what it might be like to use the Reminiscence machine. Not only do the people in the film relive their memories, but they seem to play out right in front of them in holograms. And Hugh Jackman told IMDB that filming those sequences was a highlight for him:
The action sequences in Reminiscence are definitely one of the most memorable parts of the film. In fact, Thandiwe Newton has her own vivid memories of one being nearly disrupted by an electrical storm. Despite that near setback, it's easy to see why Jackman would have enjoyed filming such intense scenes -- he does seem to love a challenge. But it's also nice to know that the hologram memories that play such a crucial role in the film were just as cool on set as they are on screen.
Now that Reminiscence is wrapped and has been released, Hugh Jackman may not be able to see such cool effects every day anymore. But he is still keeping in good spirits these days -- he even paused his seemingly never ending feud with Ryan Reynolds to congratulate him on the success of Free Guy. He also has some intriguing upcoming movies on the way, including a biopic about Enzo Ferrari, though that one probably won't have too many underwater action sequences or holograms.
Reminiscence is currently playing in theaters and is available to stream on HBO Max.
Your Daily Blend of Entertainment News