Jason Statham Is Making A Thriller About Bees, And It Sounds Positively Buzzworthy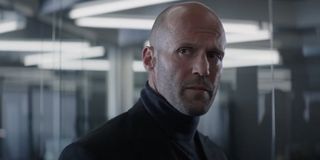 If there is one thing in this life that I attribute a source of stability to, it's what I have come to expect from Jason Statham. The British actor has made a name for himself as a notorious, cool, and calculating action figure, even from the very start of his career when he appeared in Guy Ritchie's Lock, Stock and Two Smoking Barrels. That stability from Statham's predictable, yet rock solid acting career may be about to change, because the action star is now making a thriller about beekeeping, and of course it sounds awesome.
While Jason Statham's signature cool guy suave and gravelly voice will most likely still make an appearance in this new project, apparently we can expect a little bit of a different film from Statham. According to Deadline, the action star who is used to some pretty intense stunts, will now be leading a new, "lightning paced" thriller that is laden with the history and mythology behind beekeeping. Statham is set to both star and produce the project, appropriately titled The Bee Keeper.
The Bee Keeper marks the third team up between Jason Statham and Miramax, the first two both being Guy Ritchie projects – the very director that the action hero got his big acting break with. Statham starred in Wrath of Man, released right before the pandemic sent both the world and box office for a spin. He also has finished shooting for a new, currently unnamed Guy Ritchie film set for next year.
Even though the newest Miramx/Jason Statham team-up already has a title, it's not set to start on production for another year. The Bee Keeper is looking for a director to head the project and has Kurt Wimmer on board as writer. Wimmer's writing credits are on films like the Salt revival, Point Break, and the upcoming Children of the Corn reboot.
The Bee Keeper has been given a seven-figure budget, although how high those seven figures go has yet to be revealed. Jason Statham, though, has proven to bring big numbers in at the box office and is a member of some pretty big franchises, including Transporter, Crank, and The Expendables, not to mention the even bigger Fast & Furious films. With a sequel to the 2015 Spy in the works, it's reasonable to believe he's got another series forming in his resume as well.
While Jason Statham has proven himself countless time as a merciless action figure (it may be a bit of a stretch to call his type of characters strictly heroes), it will be interesting to see him in a more thrilling atmosphere, especially when the project is largely influenced by beekeeping; while I'm getting some minor The Wicker Man vibes, I have my hopes set way higher considering Statham's cool screen presence.
The Bee Keeper is pretty far from getting underway, but CinemaBlend will keep you up to date with any rising developments on this project.
Constantly thinking about books, coffee, and the existential dread I feel from Bo Burnham's Inside. While writing I'm also raising a chaotic toddler, who may or may not have picked up personality traits from watching one too many episodes of Trailer Park Boys.
Your Daily Blend of Entertainment News
Thank you for signing up to CinemaBlend. You will receive a verification email shortly.
There was a problem. Please refresh the page and try again.