After Viral Tom Cruise Helicopter Story, James Corden Reveals The Mission: Impossible 7 Star Tries To Land In Yards A Lot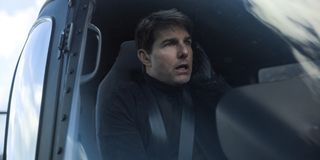 Between late-night hosting duties and his own acting gigs, James Corden has amassed a pretty big list of celebrity friends. One of them is Tom Cruise -- and that means he's privy to some pretty random information about the global superstar. For instance, after a viral story about the Mission: Impossible 7 star landing his helicopter in an unsuspecting family's yard, Corden revealed that's actually a pretty common pastime for the actor.
The host retold the story about Tom Cruise's surprise visit to a British family's backyard. According to the tale, which he told during a segment on The Late Late Show with James Corden, Cruise had a meeting nearby and had to think fast after learning the airport was closed. After sharing the news about the unexpected visit, James Corden joked:
James Corden told his studio audience that Tom Cruise allowed the family's children to ride in his helicopter while he was at a meeting -- seems like a pretty fair trade-off for taking over their backyard for an afternoon. Then, he shared a hilarious story about how Cruise once asked if he could come visit Corden by helicopter, too:
To make sure he was telling the story accurately, James Corden pulled up the text message conversation with his longtime friend and frequent guest on his phone. I mean, you have to have your receipts for this kind of thing:
The Late Late Show host said he assumed the A-lister was joking, so he sent back a series of crying emojis, only for Tom Cruise to respond, "Does that mean 'No'?" When James Corden told the Mission: Impossible star that he was unsure whether he'd be able to land a helicopter in the area, he had a response fitting of one of the most famous people on the planet:
It's an especially funny anecdote when we now have evidence that Tom Cruise can land his helicopter in some surprising places. This isn't the first time James Corden and Tom Cruise's friendship has centered around flying objects. In 2018, the famously daring actor and the Cinderella cast member met up for a Late Late Show segment that saw the two skydiving together.
Corden didn't share whether he and the actor were actually able to make plans. Maybe when they do meet up in the future, though, they can both take a ride in the helicopter together -- if they played it right, it could make quite a twist for his most famous segment, Carpool Karaoke.
Your Daily Blend of Entertainment News
Thank you for signing up to CinemaBlend. You will receive a verification email shortly.
There was a problem. Please refresh the page and try again.