Could Old 2 Happen? Here's What M. Night Shyamalan Says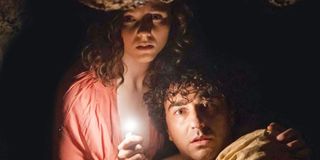 M. Night Shyamalan isn't the kind of director who aspires to make sequels or launch franchises. That doesn't mean he hasn't made sequels. In fact, Unbreakable finally got around to completing a trilogy by way of Split and Glass, but that was out of the norm for the filmmaker. So now that he has a modest hit on his hands with the time-bending Old, audience members were curious if the famous beach could be involved in another film, or even a series of stories spun by Shyamalan. Well, he has thoughts, and there's hope for people who might want to see Old 2. Older?
Sitting down for a conversation with GamesRadar, M. Night Shyamalan revealed that he has been thinking about places where the Old story could go, even though he doesn't naturally think about sequels to his features. But he was very quick to dismiss the potential of Old 2, telling the magazine:
And now, just like the rest of you who are reading this article, I need to hear the pitch for the continuation of Old. There are definitely places that the story could go. And they don't even need to necessarily come AFTER the events of Old… even though the movie easily could do that.
We are going to get into spoilers for Old in the next paragraph, so bail out now if you haven't seen the movie and still want to stay in the dark about the movie's ultimate twist.
So, when Old comes to an end, the beach that rapidly ages visitors has been exposed, and the vacation resort that has been sending ill patrons to the beach to hasten their medical research is under the microscope. A traditional Old sequel could deal with the consequences of the revelation, while also following the main characters Trent (Emun Elliott) and Maddox (Embeth Davidtz) as adults who now have to cope with the fact that they have lost a huge chunk of their lives because they visited the Old beach as children. The ramifications of that have to be enormous.
However, an Old prequel ALSO could be a possibility. Because the moment that the "twist" explanation for the rapid aging in the film was revealed, I had so many questions about the location, and the resort, so spending time setting up the history of that beach, and maybe exploring different people who visited the spot before its power gets revealed would be terrific. Basically, I'm saying the Old Beach needs an origin story.
However, as quickly as M. Night Shyamalan reveals that he has an idea for Old 2, he also admits that he's never going to make it. So should we move on? Probably. As mentioned, even when he has an idea for the next story, Shyamalan prefers to present fresh, new concepts, and we're sure he's going to explore them before he ever got back to the beach. Maybe when we are… older!
Movie junkie. Infatuated with comic-book films. ReelBlend cohost. Resident dad. Extroverted introvert. Wants to see the Snyder Cut. Managing Director at CinemaBlend.
Your Daily Blend of Entertainment News
Thank you for signing up to CinemaBlend. You will receive a verification email shortly.
There was a problem. Please refresh the page and try again.