Disney's Far From The Tree Takes An Honest Look At Parenting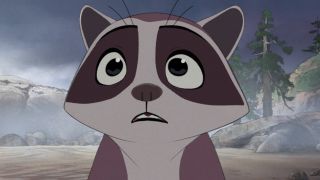 Far From the Tree, a new short from Walt Disney Animation Studios, will debut in theaters along with Encanto. In true Disney fashion, the animated short packs quite the emotional punch. As one can infer from the title, the film explores the popular phrase "the apple doesn't fall far from the tree" and takes an honest look at parenting.
Parenting is tough, especially when the stakes are high. On an idyllic beach in the Pacific Northwest, curiosity gets the better of a young raccoon whose frustrated parent attempts to keep them both safe in Far From the Tree. I spoke with writer/director Natalie Nourigat for an interview with CinemaBlend and she shared the following about the parenting research that went into the film:
Amazing. I'm always impressed by the lengths Disney goes to keep the storytelling authentic, and it sounds like the research component talking with and learning from various parents was key in writing Far From the Tree. As Natalie Nourigat mentioned, raising kids is difficult, and people don't always discuss the hard parts, especially when it comes to confronting negative patterns that were learned in childhood.
In Far From the Tree, danger lurks around every corner and the audience feels the anxiety of the adult raccoon as they try to keep their little one safe. But constantly stopping their child from exploring and always saying no takes a toll on the relationship, and on how the young raccoon experiences the world. When the young raccoon grows and has a child of its own, it falls into the same pattern of always saying no and trying to shelter the child from the world to keep them safe. Luckily, the now-adult raccoon remembers their own childhood and is able to adjust their method from sheltering to teaching, showing that in a world of danger it is still possible to live with an open heart.
Far From the Tree opens in U.S. theaters with the new Walt Disney Animation Studios feature, Encanto on November 24, 2021. While you wait, check out these great shorts on Disney+.
Your Daily Blend of Entertainment News
Obsessed with Hamilton and most things Disney. Gets too attached to TV show characters. Loves a good thriller, but will only tolerate so much blood.