Toy Story's Partysaurus Rex And 12 Other Great Disney Shorts On Disney Plus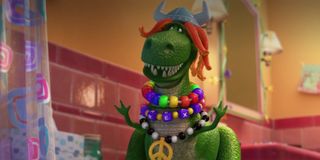 For the longest time you either had to catch a Disney or Pixar movie in theaters or buy the DVD in order to watch those amazing animated shorts that preceded the studios' feature films. If you wanted to relive the hilarious and thoughtful shorts that played before movies like Toy Story but didn't want to shell out the money to buy the DVD or Blu-ray, you were out of luck. But thanks to Disney+, many of the animated shorts from the "House Of Mouse" are now all in one place that you can revisit anytime you like.
One of my favorite things about Disney+ is all of the animated shorts that are featured on the streaming service, like the Toy Story short Partysaurus Rex, which I honestly didn't know much about until I stumbled across it while showing my kids some of my favorite shorts (perfect for kids with short attention spans, by the way). But after we watched it again and again, I was hooked and wanted to see more of what the service had to offer in the animated shorts category. Here are 13 great Disney+ shorts, including Partysaurus Rex that you can stream right now.
Partysaurus Rex
Like I said in the introduction, Partysaurus Rex is a delight. First shown alongside the 3D re-release of Finding Nemo in 2012, this seven-minute animated short has everything you want from a Toy Story production and more. Instead of focusing on main characters like Woody and Buzz Lightyear, this short and sweet animated film centers around Rex after he gets left in the bathtub. What follows is an exploration of the different types of toys found in a kid's bathtub — toys that sink, toys that float, toys made up of all sorts of materials. From the beginning to end, this is an amusing thrill ride, which explains why my kids make me restart it just about every time we watch it.
Stream It On Disney+ Here (opens in new tab).
Bao
Released alongside Incredibles 2 in 2018, the Pixar animated short Bao has a more somber tone than the movie that followed or other short films from the studio. But don't let the idea of a story about a woman suffering from empty nest syndrome who makes a steamed bun that comes to life scare you, because this eight-minute film brings a lot of laughs throughout its duration. And with no dialogue, Bao is told through non-verbal storytelling, body language, and beautiful animation, which is why it took home the Academy Award for Best Animated Short Film in 2019.
Stream It On Disney+ Here (opens in new tab).
Playdate With Destiny
Disney did everyone a favor in spring 2020 by adding Onward to Disney+ just weeks after it was released in theaters. Also hitting the streaming service was the Simpsons short, Playdate With Destiny animated short that played before the latest Pixar release. Just like the amazing The Longest Daycare animated short released eight years earlier, Playdate With Destiny follows the silent Maggie Simpson, this time after she falls in love with a young boy named Hudson on the playground. This simple yet sentimental animated short brings the laughs and a lot of joy.
Stream It On Disney+ Here (opens in new tab).
Lamp Life
Toy Story 4 was just as much a Bo Peep story as it was a Woody or Forky story, but there were still a lot of questions about what happened to the porcelain figurine, her sheep, and their lamp after they were given away in the first few minutes of the 2019 animated film. Some of those questions were answered in the Disney+ exclusive Lamp Life, which follows the Bo Peep and her sheep before she has a chance encounter with Woody all those years later.
Stream It On Disney+ Here (opens in new tab).
For The Birds
Released alongside Monsters, Inc. in 2001, the Academy Awarding-winning animated short For The Birds clocks in at a little under three-and-a-half minutes, but that's all you need to watch this hilarious story about an awkward bird trying to fit in with a flock of small and unwelcoming birds who want nothing to do with him. After the flock tries to get the bird off a telephone wire, they soon realize how big of a mistake they just made. Like so many great animated shorts from Pixar and Disney, this one has no spoken lines, instead speaking in the international language of physical comedy.
Stream It On Disney+ Here (opens in new tab).
Float
First released on Disney+ on the day of the service's launch, the Pixar-produced Float spends seven minutes telling the story of an extraordinary boy with the ability to fly and his father who learns that what he thinks is a curse is actually a blessing. This poignant story of a father coming to terms with his son's true self and no longer forcing him to conform to society is one of the most beautiful and satisfying stories to come from the studio, which is saying a lot.
Stream It On Disney+ Here (opens in new tab).
Lava
Anyone who saw the 2015 Pixar hit Inside-Out probably remembers Lava, the equally amazing short film that played before its theatrical release. Inspired by the scenic, yet isolated islands of the Pacific Ocean, this short animated musical tells a story of loneliness, love, heartbreak, and the reunion all in a short stretch of time. With top-tier animation we've come to expect from Pixar over the years, this short and sweet film will bring a smile to your face and warmth to your heart before it's over and done with. Plus, it has one of the catchiest songs you won't be able to get out of your head.
Stream It On Disney+ Here (opens in new tab).
Party Central
Fans of Monsters, Inc. and the follow-up Monsters University were in for a real treat in 2014 when the animated short Party Central, which takes place after the events of the 2013 sequel, was shown before Muppets Most Wanted. This was one of the many animated shorts on Disney+ that I didn't know existed until late in the game, but better late than never, right? Centered around the Oozma Kappa fraternity on the night of a failed shindig, the short follows the group as they come up with a rather inventive way of getting partygoers from the more successful Roar Omega Roar frat party to come over.
Stream It On Disney+ Here (opens in new tab).
Inner Workings
Released alongside the Disney mega-hit Moana in 2016, the animated short Inner Workings illustrates the never-ending battle between the heart and brain in superb fashion. Following a day in the life of Paul, a nervous everyman, the short film brings the fight between his logical brain and free-spirited heart to the forefront and provides more several amusing scenarios. The animation of Paul's different bodily functions is detailed and brought to life by some pretty clever animation that makes for a short and sweet story of a man trying to find love.
Stream It On Disney+ Here (opens in new tab).
Day And Night
I mentioned this one in the introduction, but the Pixar animated short Day And Night was one of the best things I saw in theaters in 2010, which is crazy to think about considering it played right before Toy Story 3 upon the film's release. This isn't your traditional Pixar production either, as its mostly 2-D animation opposed to traditional 3-D releases from the studio. Featuring two characters — Day and Night — this under-six-minute short shows that even though we may be different from one another, we all have something to bring to the table. There's even a nice reference to an all-time Disney favorite.
Stream It On Disney+ Here (opens in new tab).
Small Fry
Released alongside The Muppets in 2011, the Toy Story animated short Small Fry offers a scenario in which Buzz Lightyear is replaced by the evil kids' meal version of himself after an ill-fated trip to a local fast food restaurant. As Buzz is trapped in the restaurant with the other forgotten kids' meal toys of yesteryear, his miniature replacement tries take his place in Bonnie's toy collection. This one is full of laughs and gags you'd come to expect from a Toy Story film, but in the shape of a seven-minute short.
Stream It On Disney+ Here (opens in new tab).
The Adventures Of André And Wally B.
Long before the founders of Pixar created one of the most prolific animation studios in the history of the medium they were part of The Graphics Group division at Lucasfilm. One of the revolutionary projects completed by the team was The Adventures Of André And Wally B., a one-minute short film featuring primitive graphics featuring simple geometric shapes. And while it's not as pretty or dynamic as the films that would follow from Pixar, this 1984 short shows you just how far the studio has come.
Stream It On Disney+ Here (opens in new tab).
Steamboat Willie
If you want to see where it all began for Disney, Mickey Mouse, and cartoons with synchronized sound, look no further than the classic black-and-white cartoon Steamboat Willie, which features the beloved mouse as the deckhand aboard the ship of the evil Captain Pete. Co-written and co-directed by Walt Disney himself, this iconic piece of animation is available on Disney+ in its original and unaltered form. Heads up though, as this one came out in 1928, so some cultural references might not be as palatable now as they were back then.
Stream It On Disney+ Here (opens in new tab).
Those are some of the best animated shorts you can watch right now on Disney+, but trust me, there are dozens upon dozens more that are all worth checking out. And if you want to know more about Disney+ or some of the best movies on the streaming service that aren't Frozen II, come back to CinemaBlend.
Philip grew up in Louisiana (not New Orleans) before moving to St. Louis after graduating from Louisiana State University-Shreveport. When he's not writing about movies or television, Philip can be found being chased by his three kids, telling his dogs to stop yelling at the mailman, or yelling about professional wrestling to his wife. If the stars properly align, he will talk about For Love Of The Game being the best baseball movie of all time.
Your Daily Blend of Entertainment News
Thank you for signing up to CinemaBlend. You will receive a verification email shortly.
There was a problem. Please refresh the page and try again.