The Parenting Advice Kylie Jenner Received From Sister Kourtney Kardashian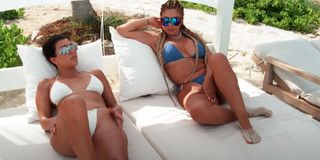 Keeping up with the Kardashians has been keeping up for over a decade now, with new kids and grandkids entering the mix of their daily lives. And as it turns out, big sis Kourtney Kardashian can still teach little sis Kylie Jenner a little something about parenting.
Kourtney Kardashian, who was the first of the Kardashian clan to have kids of her own, has three kids with ex Scott Disick – Mason, Penelope and Reign. Kylie Jenner had her first child, Stormi, in 2018. The two sisters sat down for one of Jenner's makeup-meets-talk show "Get Ready with Us" segments on YouTube. When it comes to parenting advice, Kardashian recommended to Jenner:
Kylie Jenner also told Kourtney Kardashian in the segment that she fondly thinks about Kardashian and Stormi when it comes to the age gaps and generational differences in their family. Stormi and Kylie are 20 years apart, while Kourtney and Kylie are 18 years apart. Jenner joked to Kardashian: "Can you imagine having a me as your kid?"
In their playful segment, as Kylie Jenner did Kourtney Kardashian's makeup, Kardashian responded with an anecdote that reveals just how much she has been a parental and mature figure in Jenner's life. She talked about a formative moment when she was with an 8-year-old Jenner at Disney World for the first time. Apparently, Jenner threw a monumental tantrum because she wasn't allowed to get Tinker Bell pajamas.
Kourtney Kardashian preceded to tell that young Kylie Jenner that, essentially, she was being a spoiled brat and other kids in the world "have no food, no homes, that have nothing." This moment will remind many Keeping Up with the Kardashian fans of the iconic episode when Kim Kardashian freaked out because she lost her diamond earring in the ocean. Kourtney Kardashian, at the time, blandly responded, "Kim, there's people that are dying."
So apparently, it is a long tradition for Kourtney Kardashian to give a healthy dose of reality checks to her sisters. It wasn't lost on Kylie Jenner, either, as she shared that her daughter Stormi suffers from the same spoiled affliction, saying, "She reminds me of me."
Though she decided last year to only have occasional appearances on their long-running reality show, Kourtney Kardashian still has more parenting advice to give when handling those kinds of situations. She said:
The "Get Ready with Us" segment is just one of several on Kylie Jenner's YouTube channel. She has also done makeup talks with Kim, Khloe and her mom Kris Jenner. They all have reflected recently about their notorious bickering, drama with significant others and pulling pranks on one another in Keeping up with the Kardashians.
The final 20th season of Keeping Up with the Kardashian will premiere on March 18 at 8 p.m. ET on E! Undoubtedly, the finale will see a lot of tears as the family reflects on growing up on-screen together.
Movies and TV News Writer
Freelance writer. Favs: film history, reality TV, astronomy, French fries.
Your Daily Blend of Entertainment News
Thank you for signing up to CinemaBlend. You will receive a verification email shortly.
There was a problem. Please refresh the page and try again.