Best 'Creed' In The Trilogy? | 'Creed III' Review
Michael B. Jordan's directorial debut enters the ring.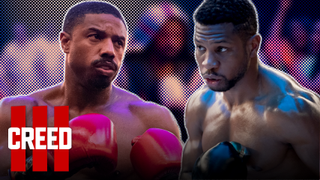 (Image credit: United Artists Releasing)
Michael B. Jordan makes his directorial debut with Creed III, the 9th movie in the Rocky franchise, starring Jonathan Majors and Tessa Thompson. Director Ryan Cooler set the bar incredibly high with the original Creed film, so we discuss whether or not Jordan was able to meet exceptions. Before we get to our Creed III review though we take a look at the box office results for Ant-Man 3, and chat about Marvel's prospects at the box office moving forward, and whether Ant-Man has will be considered a success.
Stick around through the end of the show for this week's BlendGame which includes our favorite moments from across the Rocky franchise's long and storied history.
Timestamps (approx. only)
00:00:00 - intro
00:04:15 - Box Office Chat: 'Ant-Man 3' vs 'Cocaine Bear' vs March
00:24:01 - Marvel Tier List: 'Ant-Man & The Wasp: Quantumania'
00:32:41 - This Week In Movies
00:36:58 - 'Creed III' Review
00:52:43 - Our Favorite Rocky Moments
01:09:53 - Outro
Want More ReelBlend?
Sign up for our premium membership, which includes an extra episode a week, a bi-weekly newsletter from Sean, and ad-free episodes. Also, be sure to subscribe to ReelBlend on YouTube for full episodes of the show in video form. Finally, we have all kinds of fun merchandise for dedicated Blenders to flaunt their fandom with pride.
Your Daily Blend of Entertainment News
Video Producer & Podcast Lead
Gabe studied Film & Photography at Webster University. He currently spends his free time looking like a fool trying to play Ice Hockey (a recently acquired hobby), playing video games, and watching every movie starring Dwayne "The Rock" Johnson. Dwayne, if you're reading this...he sends his love.