Who Rose McGowan Blames For Her 'Feud' With Shannen Doherty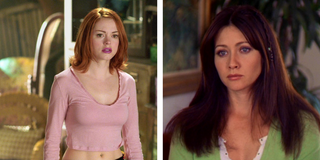 (Image credit: Charmed)
Rose McGowan is pointing her finger at someone else for causing her alleged beef with Shannen Doherty: Hollywood. In a lengthy Instagram post, McGowan wrote that she blames the entertainment industry for pitting her against Doherty.
Shannen Doherty has a storied history in Hollywood as being difficult to work with. Rumors of her costar feuds and on-set antics began back when she starred on Beverly Hills, 90210, which she then left after four seasons. She went on to star as Prue Halliwell in the WB's hit supernatural drama Charmed, but was allegedly booted due to a feud with her costar Alyssa Milano. After Doherty left the show, Rose McGowan was brought on to take her place as Prue's half sister Paige. This replacement created rumors that McGowan and Doherty disliked one another.
In her post, Rose McGowan admits that she didn't address the alleged feud for fear of being labelled "difficult," as Doherty so famously was.
Alongside her note, Rose McGowan shared an image of two cartoon women smiling next to one another. One woman is bald to represent McGowan's shaved head, and the other is wearing a head wrap, as Shannen Doherty has begun doing after revealing she's been diagnosed with breast cancer.
In August of 2015, Shannen Doherty revealed that she had been diagnosed with breast cancer several months earlier. This year, Doherty opened up about having a mastectomy over the summer, and that she was planning to begin radiotherapy. The actress has been very open about her battle with cancer, sharing various updates on her health via her Instagram account.
Read Rose McGowan's full note to Shannen Doherty and her indictment of the Hollywood industry below.
Your Daily Blend of Entertainment News