Amanda Seyfried Shares Details About Her OCD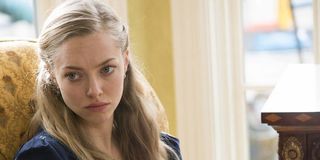 (Image credit: Fathers and Daughters)
Amanda Seyfried used her most recent cover story with Allure to open up about the not-so-glamorous parts of her movie star lifestyle. Namely, the fact that she suffers from obsessive compulsive disorder (OCD) and anxiety. In a very frank interview, Seyfried spoke honestly about her medication and the stigma that society places on mental illnesses.
In order to control her OCD, Amanda Seyfried revealed to Allure that she's been taking Lexapro regularly for 11 years. Lexapro is a commonly prescribed medication that treats depression and anxiety. Seyfried says that she began taking the drug when she was 19, which was immediately following her big screen break in Mean Girls and during her recurring role on the hit show Veronica Mars. Seyfried went on to say that she's on the lowest dose of Lexapro, and also that she will never stop taking the medication.
Amanda Seyfried goes on to explain why she doesn't want to go off medication in the future, and why she isn't ashamed to talk about her OCD openly. The actress explained that she doesn't see mental illness as any different from a physical illness, and doesn't see why much of society does see a difference. She sees the Lexapro she takes as a tool to fix her illness, just like cold medicine can help cure a cold, and so she will continue to treat her OCD and ignore the stigma that she says the general public places on mental health medication.
In the interview, Amanda Seyfried also opened up about her health anxiety, which she says stems from her OCD. Seyfried has talked about her anxiety, panic attacks, and even stage fright in earlier interviews, but didn't reveal that the full extent of her anxiety once led her to believe that she was developing a tumor in her brain.
All these health issues may seem like a lot to bear, but don't you worry about Amanda Seyfried --- she seems to have it all in check thanks to medication and better understanding how her OCD functions. Plus, Seyfried has a pretty exciting personal life right now. She just got engaged to actor Thomas Sadoski last month, who costars with her in the upcoming drama The Last Word, and she's going to be a part of the highly anticipated Twin Peaks reboot next year.
Your Daily Blend of Entertainment News