One Direction Star Zayn Malik Admits He Had An Eating Disorder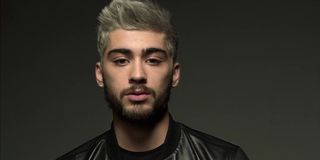 (Image credit: Zayn "Pillowtalk" video)
Turns out, things weren't as smiley and sunny in boy band One Direction as the upbeat pop songs that they put out would have you believe. Ex band member Zayn Malik is opening up about the struggles he was facing during his final days with the group, which included a serious eating disorder.
Zayn Malik detailed his eating disorder in his new autobiography Zayn, which was released on Tuesday. In it, Malik writes that he has come to terms with it now, but the disorder was a major part of his last few months with One Direction, according to CNN. Rather than experiencing body dysmorphia or self-image issues, as is often associated with the anorexia that Malik describes in his book, the singer writes that it developed from a lack of control that he felt he had in his life. Like many other people suffering from eating disorders, Malik writes that he controlled how much food he would eat to make up for the fact that he felt he couldn't control anything else.
The illness and health struggles that Zayn Malik writes about were notable to the public at the time, which would have been late 2014 and early 2015. At that time, fans and the media began to notice Malik was much thinner than usual, but suspected drug use rather than an eating disorder to be the cause. These drug rumors were not helped by the fact that Malik would be notably absent from press appearances with the rest of One Direction. He writes that it was due to illness resulting from his eating disorder that he couldn't do press as consistently at that time.
Now, Zayn Malik admits that when he looks back at pictures of himself from when his eating disorder was at its height in late 2014, he can clearly see the effects it was taking on his body. A few months into 2015, Malik shocked fans by quitting One Direction, and then broke up with his girlfriend of three years Perrie Edwards via text message.
Though that was a scary time for Zayn Malik, things seem to be looking up now. His first solo album Mind of Mine debuted at number 1 in the United States earlier this year, and he still has hordes of fans that will go gaga over the smallest thing he does, even shaving his beard.
Your Daily Blend of Entertainment News