One Hilarious Baby Name Mila Kunis Has Already Vetoed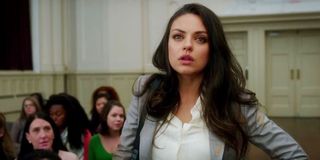 (Image credit: Bad Moms)
Mila Kunis is expecting to deliver her second child with Ashton Kutcher any day now, but the process of coming up with a name is proving a bit troublesome for the famous couple. Though Kutcher says the couple is more or less settled on a name for their soon-to-be-born son, he also shared that he's a bit remiss that Kunis vetoed the first name he was excited about.
Ashton Kutcher went on Conan to express his disappointment that his son won't be named Hawkeye Kutcher. Apparently, Mila Kunis wasn't a fan of the name, and the couple wound up settling on a different name that they aren't sharing yet. But why Hawkeye? No, Ashton Kutcher isn't just a huge Marvel fan. It was actually a mix of home state pride, college football, and classic TV that made the name seem perfect to Kutcher.
Unfortunately for Ashton Kutcher, it doesn't look like his first son is going to have that crucial University of Iowa football/Alan Alda connection. But still, we should probably expect an obscure name closer to Hawkeye than Tom or John, given that Mila Kunis and Kutcher gave their daughter the cute but quirky name Wyatt.
Check out Ashton Kutcher's excitement over the nixed name Hawkeye Kutcher below.
And don't expect to find out that baby name early --- Ashton Kutcher and Mila Kunis have kept details about their second pregnancy relatively quiet. It wasn't until this June that the couple even confirmed they were expecting (which would have been about four months into the pregnancy), and we only know that the baby is going to be a boy because Kutcher slipped up a bit in an interview last month and revealed the sex.
Still, it's not like fans have that much longer to wait to meet the newest member of the Kutcher-Kunis family. Mila Kunis is expected to deliver the baby sometime in late November or early December, meaning that there will be a new little Kutcher in the world in less than month. I personally can't wait until their kids are old enough to watch That '70s Show and see their mom and dad fall in love as two dopey, lovable teenagers. Am I crazy for kind of hoping they name the kid Kelso?
Your Daily Blend of Entertainment News
Thank you for signing up to CinemaBlend. You will receive a verification email shortly.
There was a problem. Please refresh the page and try again.