Snoop Dogg's Reaction To Kanye West's Rant Is Classic Snoop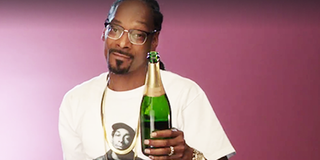 (Image credit: Martha & Snoop's Potluck Dinner Party)
At this point, it pretty much goes without saying that when you buy a ticket to a Kanye West show, there's a good chance you're going to get a lecture along with the music. The rapper/fashion designer/celebrity husband has arguably become more famous for his tendency to let loose lengthy, controversial rants than for making music, but he truly outdid himself on Saturday night, much to the displeasure of Snoop Dogg. Check out Snoop Dogg's full reaction video below.
Following Kanye West's concert in Sacramento this Saturday, Snoop Dogg recorded his incredulous reactions to West's lengthy on-stage rant. As West continued to yell his opinions on politics, social media, and his celebrity relationships from the stage for a half hour, Snoop took to Instagram to call West's outbursts crazy and speculate as to what drugs he might be on.
Snoop Dogg's reaction probably captures the feelings of most of the audience at Saturday's stop on Kanye West's Saint Pablo tour. At that show, West disappointed many by delivering his longest rant yet and then leaving the stage after thirty minutes to end the concert after performing only three songs. West's lengthy rant --- the full transcript of which is available over at The Fader for anyone looking to savagely murder fifteen minutes rather than just kill them --- included the rapper dissing Beyoncé and Jay Z for distancing themselves from him, shortly after he revealed that he would have voted for Donald Trump in the presidential election had he decided to participate.
Immediately after ending the concert, Kanye West and his team cancelled the show in Inglewood, California that was scheduled for Sunday night, along with all of the rest of the shows on his Saint Pablo tour, which was scheduled to have about twenty more stops and continue through the end of 2016. A TMZ source has reported that West canceled the tour because he is "exhausted" due to the dual demands on his fashion and music efforts, and added that his wife Kim Kardashian's robbery at gunpoint last month has put extra stress on him to want to be with his family.
Hopefully Kanye West can get some rest and collect himself. I'm sure Snoop Dogg has something that can help Kanye relax a bit...
Your Daily Blend of Entertainment News