See A Nike Store Before And After It Was Completely Trashed By Black Friday Shoppers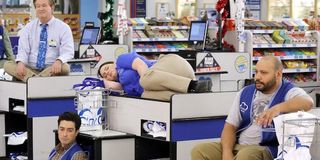 Black Friday has reared its ugly head yet again this weekend, reminding all of us that deep down, people are all really just rage-filled greed monsters who will trample you to get a discounted TV. But the biggest casualty of this year's Black Friday --- aside from just hope for humanity in general --- was one shoe store in Washington.
Take a look at the poor, unassuming, organized shelves of the Nike outlet store a few days before Black Friday. Take a moment to soak in the rows of beautifully organized orange boxes, all neatly stacked on top of one another, with no idea of the carnage and chaos about to befall them.
And now, feast your eyes on what those once-pristine aisles looked like after the Black Friday hurricane this weekend. Northwest Kicks uploaded a photo of shoeboxes strewn across their floors as customers trampled over them and added to the mess.
Yep, that's the aisle of a shoe store, not some trash-filled back alley. An employee at the store told Buzzfeed News that an estimated 20,000 people stampeded through the store to make the most of its Black Friday deals. One customer named Larry Downer came into the Nike store to buy a pair of basketball shoes for his son, but instead of a normal, functioning shoe store, he found himself in the middle of an apparent natural disaster.
Downer recorded a video of the post-apocalyptic scene, which shows customers picking through the sea of boxes as one woman attempts to wade through the towering pile cardboard.
Yikes, it looks like a city in an Avengers movie after the big fight. Well, hopefully the Nike outlet is in much better shape by now, although it looks like it might take more than a couple days to even be able to see the floor again. File this story under: Reasons I'm doing my shopping on Cyber Monday instead of Black Friday.
Your Daily Blend of Entertainment News