Harry Potter And The Cursed Child Tops The Bestselling Books Of 2016 At Amazon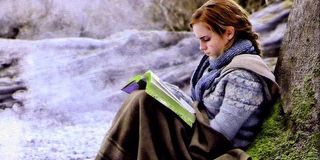 (Image credit: Harry Potter)
Harry Potter has cast his magic on readers all over the world yet again. The eighth story in the insanely popular young adult series topped the list of Amazon's bestselling books of 2016. Check out the full list of Amazon's top 20 bestsellers for 2016 below.
It should come as no surprise that Harry Potter and the Cursed Child, Parts 1 & 2 would top Amazon's list --- the book became the digital marketplace's most preordered book of 2016 prior to its July 31 release date, and went on to sell over two million copies after just two days of being released. The book itself is actually the script for a play of the same name, which is currently running sold-out shows in London. And good news for U.S. Potterheads --- J.K. Rowling announced last week that the production is in talks to debut on Broadway in 2018!
While it was inarguably Harry Potter's year, it was also a big year for nonfiction and thrillers in the Amazon bookstore. The late Dr. Paul Kalanithi's posthumous memoir When Breath Becomes Air, chronicling his life as a doctor while struggling with terminal lung cancer, took the number two slot, followed by new mystery/thriller novels from John Grisham and David Baldacci. And given that 2016 was an election year, books with a political bent were another big seller, such as Bill O'Reilly's Killing the Rising Sun and J.D. Vance's Hillbilly Elegy.
Oh, and next year's bestseller list might have a pretty familiar looking number one also, since J.K. Rowling is set to release a revise "Definitive Collector's Edition" of Harry Potter and the Cursed Child in 2017, as well as a new edition of Fantastic Beasts and Where to Find Them. It looks like every other author is going to really have to step it up next year if they hope to cast their spell on Amazon.
Harry Potter and the Cursed Child is available on Amazon here.
Your Daily Blend of Entertainment News
Thank you for signing up to CinemaBlend. You will receive a verification email shortly.
There was a problem. Please refresh the page and try again.