Amy Schumer Bought Her Family's Farm Back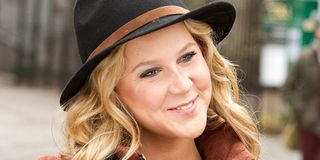 Amy Schumer just brought a whole barn full of Christmas joy to her father this holiday season. The comedian surprised her dad by buying back the family farm that was taken away from them during Schumer's childhood. Talk about the ultimate Christmas present!
On Monday, Amy Schumer shared the news with her dad that she had purchased back the farm that the family had lost over twenty years ago, and shared his emotional reaction to her Instagram account. In the screenshot of Schumer's FaceTime call to inform her dad of the purchase, Schumer's father Gordon appears emotional and teary to learn that his daughter has reclaimed a major piece of the good 'ole days for him.
The gift is particularly meaningful in the tragic context of Amy Schumer's childhood. Though she began her life in a wealthy family due to the success of her father's furniture company, the Schumer family soon lost it all when they were forced to declare bankruptcy, when Amy was 9. It was then that Gordon Schumer was forced to sell the family farm, and shortly after that he was diagnosed with multiple sclerosis and Amy's mother divorced her father and left the family. Clearly, Gordon Schumer has been through a ton of horrible stuff, which makes seeing his emotional response below even more touching.
After telling her dad the magical news, Amy Schumer shared one of her own memories from her childhood days on the farm that is finally Schumer-owned again. The comedian shared a short clip of a home video of herself as a child telling her dad that she was going to run away from home as she slowly meandered into the corn field. Check out the adorableness below.
While getting the farm back has been a financial impossibility for the Schumers for over two decades, Amy Schumer's meteoric rise to fame in the past few years has finally made her father's dreams a reality. And there will undoubtedly be more great surprises for her family to come, as Schumer shows no signs of slowing down in completely owning Hollywood --- she's costarring with Goldie Hawn in a new comedy called Snatched next year, is developing a movie with Jennifer Lawrence, and was also just cast as the lead in a live-action Barbie film.
I just feel bad for Amy Schumer's siblings when they give their dad a sweater or a gift card or something for Christmas.
Your Daily Blend of Entertainment News
Thank you for signing up to CinemaBlend. You will receive a verification email shortly.
There was a problem. Please refresh the page and try again.