The Best Christmas TV Movies And Episodes On Netflix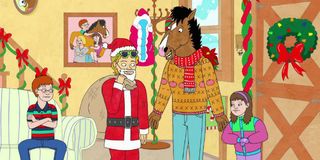 The holidays are a time when we actively embrace our oldest and most enduring traditions. We sit down with our families and other loved ones (whether we want to or not), sip on some hot chocolate, and open presents. These customs have become ingrained in us, and for pop culture enthusiasts, there's one tradition that rises above the rest: watching all that sweet Christmas TV. When the holidays get going, there's nothing better than sitting down with a glass of eggnog (spiked or otherwise) and catching up with some sentimental favorites.
To help you get the most out of the season, we have compiled a list of holiday specials, TV episodes, and TV movies that are perfect to watch during this festive time of year. All of these titles are currently available on Netflix, so there's really no reason not to binge them with the whole family. Without further ado, let's get the ball rolling with an absolute classic from 1988...
Pee-wee's Playhouse: Christmas Special
In the realm of Christmas specials, Pee-wee's Playhouse: Christmas Special is a rite of passage that all people should go through in order to properly celebrate the holidays during childhood. An absolutely wild and outlandish holiday tale, the special follows Pee-wee Herman as he hangs out with musicians like K.D. Lang and Lionel Ritchie (it's admittedly a bit dated on the celeb front) and grapples with ethical dilemmas when Santa Claus brings him too many presents. No such thing, Pee-wee. Thing! Ahhhhh! (That was the secret word.)
The West Wing - "In Excelsis Deo"
If you think that there's no time for a little holiday cheer in a tense, Aaron Sorkin-written drama, then you definitely need to reconsider that opinion. The tenth episode of The West Wing's first season, "In Excelsis Deo" took the Christmas season and used it as a framing device to tackle some of the more serious issues that the series typically deals with: the death of a Korean War veteran, the aftermath of a hate crime, and substance abuse. Even through all of that intensity, the spirit of the holiday remains alive and well.
A Very Murray Christmas
The holidays are a time to be with those you love, and there is no single individual that we love more than Bill Fuckin' Murray. Directed by none other than Sofia Coppola, A Very Murray Christmas is a star-studded affair which features cameos by notable A-listers like George Clooney, Amy Poehler and Miley Cyrus. It has everything that you could possibly need to enjoy yourself during the holidays: singing, jokes, and a ton of deadpanned Christmas cheer to top it all off.
Bojack Horseman - "Sabrina's Christmas Wish"
Christmas specials really don't get more meta than Bojack Horseman's. Technically a show within a show, the special follows Bojack and Todd as they watch Bojack's favorite Horsin' Around Christmas episode. Even without any impacting connection to the greater narrative, Sabrina's Christmas Wish delivers everything that we love from the anthropomorphic horse's Netflix series, from overbearing darkness to sharp Hollywood satire to absurdly juvenile humor. However, the 1980s-infused special also cuts deep to the core of tradition, and why certain customs ultimately become important to us. You won't know whether to laugh or sit in stunned silence by the end, and that's a good thing.
Scrubs - "My Own Personal Jesus"
Few shows have ever managed to strike that perfect balance of comedy and drama quite like Scrubs, which makes it one of the most ideal shows for an awesome Christmas special. "My Own Personal Jesus" follows the staff of Sacred Heart Hospital as they witness a number of amazing Christmas miracles. Elliot finds herself caring for a young, pregnant woman at the free clinic, while Dr. Cox recruits J.D. to film the birth of his friend's child. In typical Scrubs fashion, everything that can go wrong eventually does, and the doctors find themselves scrambling to save the day and deliver laughs along the way.
The Office - "Christmas Party"
Once you learn what a Yankee swap is, you'll never ever want one to happen at your place of business. The Office produced several Christmas episodes throughout its run, but Season 2's "Christmas Party" definitely takes the cake. Capitalizing on the show's knack for awkward humor, the episode follows the Dunder Mifflin crew as they fight tooth and nail for an iPod purchased for Ryan by Michael, who obviously exceeded the maximum price limit for the Secret Santa. The episode is also fondly remembered because it plants a heartwarming seed for Jim and Pam's relationship that doesn't even pay off until Season 9.
Arrested Development - "Afternoon Delight"
Arrested Development tackled awkward comedy arguably better and broader than any other show on the air during its run, and few episodes epitomize that idea more than "Afternoon Delight." Centering much of its central plot on the Bluth Company Christmas party, the episode chronicles the misadventures of Michael Bluth as he accidentally serenades his niece to the entendre-filled tune of "Afternoon Delight," as well as his brother G.O.B., who begins mass firings after a roast goes terribly wrong. It's a near-perfect Arrested Development outing, and is too-perfect for the holiday season.
Friends - "The One With The Inappropriate Sister"
This 1998 episode of Friends, more known for Thanksgiving fun, is the iconic NBC sitcom at its absolute finest. "The One With The Inappropriate Sister" primarily centers on three major stories: Ross amusing himself during a sabbatical by subjecting Chandler and Joey to relentless pranks, Phoebe running into trouble while collecting holiday donations, and Rachel coping with her boyfriend Danny's bizarre relationship with his sister. If you're looking for awkward situations, familiar characters, and a consistent laugh track this holiday season, Friends is a perfect option that balances all of those elements with grace. Could there BE a better one?
Parks and Recreation - "Citizen Knope"
NBC sitcoms have always had a knack for playing to their respective strengths when it comes to Christmas episodes, and Parks and Recreation is no different. "Citizen Knope" centers on Leslie as she tries to keep herself occupied following her suspension from the department. Meanwhile, her coworkers secretly work to make her the best Christmas present ever. In true Parks and Recreation fashion, the episode has a far more cheerful and optimistic outlook on life than the average modern sitcom, which makes it the most Knope-tastic Christmas episode to eat meat with.
That '70s Show - "The Best Christmas Ever"
That '70s Show produced a ton of awesome holiday-themed episodes throughout its run, but its first foray into the realm of Christmas was unquestionably its best. The 1976 episode sees Eric Forman and his friends take the $40 Christmas tree budget given to them by Eric's dad and use it to buy beer for a party. So many Christmas specials try to take things into the realm of the outlandish, but That '70s Show's first Christmas episode works so well because it feels endlessly relatable for anyone who misbehaved as a teenager.
30 Rock - "Ludachristmas"
As great as a family may seem, it's wise to remember that nobody's perfect. 30 Rock's "Lucachristmas" summed up that idea excellently in 2007 by bringing Liz Lemon's family to town to meet Jack Donaghy's mother. Although the Lemons seem perfect on the surface, they eventually show their cracks, and the dysfunction comes pouring out. In a heartwarming turn of events, the episode provides Jack with peace of mind about his relationship with his own argumentative mother. It's a real Christmas miracle at 30 Rockefeller Plaza.
The Legend Of Frosty The Snowman
No Christmas list could possibly be complete without an appearance from Frosty the Snowman. Although the original 1969 film isn't currently available on Netflix, the 2005 update on the classic property most certainly is. Part sequel, and part reboot, The Legend of Frosty the Snowman tells the familiar tale of the magic snowman who comes to life on Christmas day, and uses flashbacks to provide tenuous (but oh so important) links to the original, via comic book. If you are a kid, with a kid, or simply by yourself on Christmas, The Legend of Frosty the Snowman is pleasurable viewing to coincide with gift-opening.
Pete's Christmas
Building off of that last Frosty point, we must also never forget the importance of a good old-fashioned Hallmark original movie during the holidays. There are a number of awesome choices on Netflix, but Pete's Christmas is definitely one of the best options to watch with the whole family. A take on the Groundhog Day formula, Pete's Christmas follows its titular protagonist as he finds himself reliving the same crappy Christmas over and over again -- until he decides to do something about it. If you put A Very Murray Christmas on a different TV at the same time, it's almost like a crossover.
Fireplace For Your Home - "Crackling Yule Log Fireplace"
This one is really a no-brainer for any self-respecting Christmas enthusiast. On Christmas morning, if you're not big on characters, there is no better noise than rustling wrapping paper coupled with the sound of a crackling fire. This Yule log video may be somewhat thin on plot, but it more than makes up for it by creating a winter wonderland atmosphere that honestly cannot be beat. If you don't have a fireplace or the gumption to use the one you do have, then this will undoubtedly make a worthy substitute.
Black Mirror - "White Christmas"
A British favorite known for its uncanny prescience, Black Mirror gave viewers a triple dipping with the extended "White Christmas," which brought in Jon Hamm, Oona Chaplin and Rafe Spall for its twisting and interconnected stories. One follows an anti-Casanova's use of augmented reality tech in the dating field, a haunting and existential look at the epitome of electronic personal assistants, and a couple's severe downward spiral. Unlike many other entries on this list, this one cannot be considered very heartwarming, and it's best suited not for mornings, but for the deepest dark of night.
What beloved favorite Christmas specials should Netflix acquire in the future? Don't forget to also check out the upcoming standalone holiday treat Sense8: A Christmas Special, which should add a bit of sci-fi fun to the winter wonderland.
Originally from Connecticut, Conner grew up in San Diego and graduated from Chapman University in 2014. He now lives in Los Angeles working in and around the entertainment industry and can mostly be found binging horror movies and chugging coffee.
Your Daily Blend of Entertainment News
Thank you for signing up to CinemaBlend. You will receive a verification email shortly.
There was a problem. Please refresh the page and try again.