Jennifer Lawrence And Amy Schumer Are Writing A Screenplay Together Because God Does Answer Prayers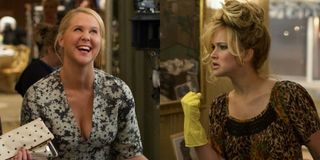 If you thought a movie co-starring Jennifer Lawrence and Chris Pratt was too much greatness for one to witness, then your face might melt off Indiana Jones style when you watch J-Law's upcoming comedy with Amy Schumer. That's right, Ms. Katniss Everdeen revealed that she's working on a new movie with the hottest comedienne in Hollywood right now.
During an interview with The New York Times about The Hunger Games: Mockingjay, Part 2, coming out this November, Lawrence casually let the news slip about a collaboration with Amy Schumer. She revealed:
So not only are they starring in this untitled film together, they also co-wrote the screenplay. We had no idea the biggest (and highest-paid) actress in Hollywood was friends with Schumer, but then again, we didn't know she sometimes got into bed with Kris Jenner. According to Lawrence, she only started talking to Schumer a couple months ago. It all started when the actress emailed the comedienne after seeing Trainwreck, and pretty soon her fangirling turned into an email exchange, which turned into a text message exchange, which turned into a joint creative venture. To prove how tight these gals are, J-Law texted Schumer during the interview to ask if it was okay that she spilled the beans to the newspaper. Schumer almost immediately responded with, "That you're gay? Totally! It's exciting!"
The two are "creatively made for each other." And that's not our words. That's from Jennifer Lawrence describing her working relationship with Amy Schumer. As she said, they have "different flavors," starting off the day chatting on the phone before sending each other pages of the screenplay. At the time of the interview, Lawrence said she was flying out to Chicago the next day to meet her and her sister Kim, who worked with Schumer on Trainwreck and is helping the ladies develop the script.
And here we thought that Lawrence jet skiing with Schumer and making a human pyramid was the best news of all time. This, certainly, takes the cake. This is the first writing credit to Lawrence's name, and who better to co-write it with her than someone who shares in her inappropriate, quirky and infectious sense of humor?
In addition to her successful comedy series, Inside Amy Schumer, the funny gal is coming off of the success of Trainwreck, which she wrote for director Judd Apatow. She also recently revealed she's working on a mother-daughter comedy, and Jonathan Levine of 50/50 is looking to direct it. Lawrence, meanwhile, is prepping to release the final installment of the Hunger Games franchise, and she'll reprise her role of Mystique (likely for the last time) in next year's X-Men: Apocalypse. And, of course, she has to make time for her boo, David O. Russell, as they release Joy in December. Busy girls.
Your Daily Blend of Entertainment News
Thank you for signing up to CinemaBlend. You will receive a verification email shortly.
There was a problem. Please refresh the page and try again.