Chris Pratt Hilariously Trolls His Own Vanity Fair Photos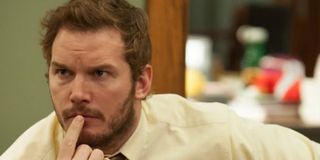 Leave it to Chris Pratt to take the "vanity" out of his Vanity Fair photoshoot. The actor poked some fun at the photos in his recent cover story by posting long, hilarious captions on Instagram.
Chris Pratt opened up about his life and rise to fame in a revealing new cover story for Vanity Fair earlier this month, but after the piece was published, he embraced his silly side. Pratt posted a bunch of the high-fashion photos taken for the cover story to his Instagram account, and cracked some jokes about the poses and props that he used in the shoot. For one picture where Pratt is chilling near a few rocks, the actor joked that he had been stuck in a crag for hours 127 Hours-style.
Another shot features Chris Pratt giving his best James Dean look while leaning on a retro race car. The shot is gorgeous, but Pratt couldn't see beyond the inherent silliness of the pose and setting, making up a behind-the-scenes story about how he was just casually waiting for the photoshoot to start.
But the comment that really took the cake was Chris Pratt's novel-length rumination on the spelling of "news stands," cars, and Heath Ledger accompanying a photo of his half-submerged cover. In the caption, Pratt gives his fans a peek into how his mind works with a long, stream-of-consciousness bit of writing that begins as publicity for the magazine issue, but evolves into a memory of running into Heath Ledger back when Pratt was a struggling actor in Hollywood without a penny to his name.
As fans know, this rambling silliness is just par for the course for Chris Pratt's Instagram. He'll often make up entertaining little stories in attempts to explain his photoshoots on the app, and recently made a game out of cutting his Passengers costar Jennifer Lawrence out of all their pictures together. Thanks for all the laughs, Chris!
Your Daily Blend of Entertainment News
Your Daily Blend of Entertainment News
Thank you for signing up to CinemaBlend. You will receive a verification email shortly.
There was a problem. Please refresh the page and try again.