SeaWorld Whale Tilikum Has Died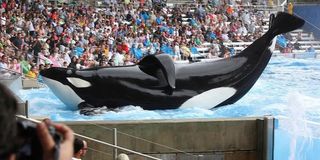 (Image credit: Blackfish)
The most famous orca whale in the world since Shamu met his end on Friday. SeaWorld announced that Tilikum, the orca whale at the center of 2013 documentary Blackfish, has died.
The SeaWorld staff released a statement on Friday morning announcing that Tilikum had passed away at the estimated age of 36. Though his official cause of death has not yet been determined, the SeaWorld staffers believe that Tilikum most likely died as the result of a bacterial lung infection that he was being treated for.
Tilikum was best known for an incident back in 2010, in which he attacked SeaWorld trainer Dawn Brancheau following a performance, resulting in her death. As Brancheau was petting Tilikum, the whale grabbed her and pulled her into the tank, drowning her. That was the third human death that Tilikum was involved in --- in the '90s, Tilikum was also responsible for the drowning of another trainer and a SeaWorld trespasser.
Following the death of Dawn Brancheau, director Gabriela Cowperthwaite set out to depict the controversy surrounding keeping orca whales in captivity in theme parks like SeaWorld, and she made Tilikum the centerpiece of the whole movie. Cowperthwaite's documentary Blackfish premiered at Sundance at the beginning of 2013, and went on to become one of the year's buzziest docs upon wide release. In the movie, marine biologists, former SeaWorld employees, and others knowledgable on the subject, attribute the aggression that some orcas exhibit in captivity to the stress of being plucked from their homes and allege that keeping orcas in captivity is an inhumane practice.
The success of Blackfish caused public controversy surrounding the issue of whether or not orcas should be kept in captivity, as many viewers and activists rallied against SeaWorld's practices, while officials at SeaWorld accused the movie of presenting a sensationalized, one-sided story that didn't include their input. However, SeaWorld did announce the end of their orca breeding program at the beginning of 2016, meaning that after the current generation of orca whales in their tanks dies out, they will no longer be keeping orcas in captivity.
Although he certainly wasn't the most well-behaved orca whale, it's clear that Tilikum had a profound influence on how we view these incredible creatures.
Your Daily Blend of Entertainment News
Your Daily Blend of Entertainment News
Thank you for signing up to CinemaBlend. You will receive a verification email shortly.
There was a problem. Please refresh the page and try again.