Emma Watson Is Reading The Vagina Monologues Right Now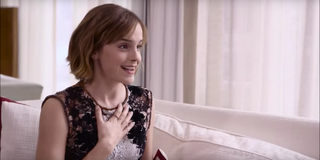 (Image credit: HeForShe Arts Week video)
Just like her character of Hermione Granger, Emma Watson loves a good book. The actress is kicking off the new year with a book that totally befits her proud, feminist stances: The Vagina Monologues.
From the looks of an Instagram photo that Emma Watson uploaded on Friday, she's well on her way to finishing the play long before January comes to an end. In the shot, Watson appears completely engrossed in the book.
Emma Watson announced in December that she would be devoting the first two months of 2017 reading and dissecting the seminal 1996 play that has had a profound influence on female artistic voices and the female sexual experience. Watson selected The Vagina Monologues as her January and February book for her online book club Our Shared Shelf, and wrote a bit about how revolutionary and daring the episodic play has meant to the world. After some brief background on how Eve Ensler's writing and performance has helped women throughout the years, Watson challenged her fellow readers to grapple with how our perception of female sexuality has changed (or not changed) in the twenty years since The Vagina Monologues was first published.
Emma Watson started her online feminist book club Our Shared Shelf earlier in 2016 after being appointed a United Nations Women Goodwill Ambassador. As she write's in the group's description, Watson created the club to discover as many books, essays, or plays relating to gender equality that she can, and then to share the experience of reading and discussing the works with anybody interested. So far, the books that Watson has selected have included Gloria Steinem's memoir My Life On The Road, Carrie Brownstein's Hunger Makes Me a Modern Girl, and most recently, Maya Angelou's Mom & Me & Mom, which she hid copies of around the London subway system for passersby to pick up and enjoy.
And it seems like Emma Watson is choosing her acting roles to also be strong, book-loving women. Obviously, her iconic role as Hermione in the Harry Potter movies felt most at home in the library, and now Watson will be Belle in the live action Beauty and the Beast movie, who is famously the most well-read Disney princess.
Your Daily Blend of Entertainment News
Your Daily Blend of Entertainment News
Thank you for signing up to CinemaBlend. You will receive a verification email shortly.
There was a problem. Please refresh the page and try again.