What Emma Watson Regrets About Harry Potter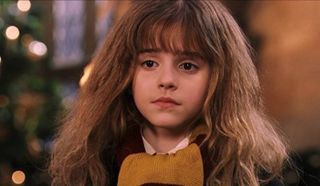 When looking back at the first Harry Potter film, Emma Watson has a very immediate and specific reaction to her character's appearance. And funnily enough, it just so happens to be one of the trademark aspects of her brainy, wand-wielding character, Hermione Granger.
Given how successful the Harry Potter movies were and continue to be, it's hard to imagine Emma Watson has many regrets about getting to play the lead female character in all eight feature adaptations of the beloved J.K. Rowling series. But according to a recent interview, she's expressed extreme distaste for her character's hair circa Harry Potter and the Sorcerer's Stone...
Emma Watson made the above comment when she was doing a photo shoot for Vogue Italia (translation via Time.) It seems Watson isn't quite able to get over her character's tangled mess of hair.
As out-of-control as Hermione's hair game was in Harry Potter and the Philosopher's Stone (see photo above), as a fan of the books, I kind of think Emma Watson got off easy as it relates to her appearance in the feature adaptations. For one thing, her hair is only really bushy in the first film, after which it shifts to a more tamed and even becoming look throughout the remaining seven movies. Her initially messy hair appeared to be an intentional nod to the description of the character in the books, as Hermione is described from her very first appearance on as having bushy hair. She's also supposed to have "large front teeth," but that physical trait never made it into the movies.
Hermione seemed to grow into her looks in the books, thanks in part to her taking the time to manage her hair as she got older, and in part to her sneakily having Madam Pomfrey shrink her teeth in Harry Potter and the Goblet of Fire. In the movies, the transition happened much sooner, as her hair went from big and bushy in Sorcerer's Stone to full and curly in Chamber of Secrets.
In fact, her hair went through a bit of a metamorphosis between Philosopher's Stone and Harry Potter and the Deathly Hallows. Let's take another look at what she looked like in the first film, and slideshow from there...
Harry Potter and the Sorcerer's Stone
Her hair's about what we expected it to look like, by the book's description. The contrast is pretty drastic when you see what her hair looked like in Chamber of Secrets...
Harry Potter and the Chamber of Secrets
See? No more bushy hair. In fact, her curls look kind of fantastic. Hardly the bushy mess of hair she's supposed to have. And her locks get even tamer in Prisoner of Azkaban...
Harry Potter and the Prisoner of Azkaban
In the third film, Hermione's curls are starting to fall in waves, though she still has the bangs. She loses those by Harry Potter and the Goblet of Fire...
Harry Potter and the Goblet of Fire
Hermione's hair looks a bit less tamed Harry Potter and the Goblet of Fire, but the same could be said for Daniel Radcliffe and Rupert Grint's hair, which was grown out and unkempt for the duration of the fourth movie. And then in Order of the Phoenix, Hermione's hair had straightened out a bit...
Harry Potter and the Order of the Phoenix
You can still see some waves, and Hermione could stand to run a brush through her hair, but in the adaptation of Book 5, Emma Watson's pulling off the semi-sloppy I'm-too-smart-and-busy-to-deal-with-my-hair-right-now hair style. It works for the character. And in her defense, Hermione's plate was pretty full by this point in the story. She gets her hair situation together in Half-Blood-Prince...
Harry Potter and the Half-Blood Prince
Hermione's hair gets its act together in the sixth film! The curls are back, and she's got her mane tied neatly back in the scene above. There's no way we'd describe what's going on there as bushy, but she's certainly not downplaying the waves. Things get a bit wilder for the first part of Harry Potterand the Deathly Hallows.
Harry Potter and the Deathly Hallows - Part 1
The above image seems like it could've been pulled from the catalog of whatever the J.Crew equivalent is in the magical community (M.Malkins?) because her outerwear situation is totally on point. But focusing on the hair, the curls have faded here, as Hermione was likely too busy hunting down horcruxes to worry much about her appearance. Again, she pulls it off. And she's wearing her hair down, which is a shift worth noticing when you see her hair in Part 2 of Harry Potter and the Deathly Hallows...
Harry Potter and the Deathly Hallows - Part 2
Arguably, not her best look, but again, Hermione had a lot going on in the final installment of the Harry Potter films, and it's actually a credit to the movie that the character had enough sense to tie her hair back for the final battle against Voldemort and his Death Eaters. Is it a pet peeve of anyone else's when the heroine of an action movie runs around saving the world with her hair flying everywhere? (The second someone tells me I have a special destiny, I'm pulling my hair back.)
The above hairstyle is not all that different from the Hermione we see in the epilogue of the story. Check out that bit of bonus next...
Harry Potter and the Deathly Hallows Epilogue
Hermione's mom-haircut is a bit tidier than her battle hairstyle, and though there's still a hint of curl to it, by comparison to how her hair looked in her younger years, it's much more reserved.
We'll be seeing a new portrayal of Hermione Granger in her adult years when the Harry Potter sequel play Harry Potter and the Cursed Child debuts in London's West End this summer. More information on that here.
Related
-Did Ron and Hermione's marriage last? Here's what Rupert Grint Says.
-Will we hear Emma Watson sing in Beauty and the Beast? Get ready for it...
-Emma Watson's reaction to rumors she would star in Fifty Shades Of Grey is hilarious. Read it here.
-What JK Rowling ACTUALLY said about Hermione's relationships with Ron and Harry.
Your Daily Blend of Entertainment News
Assistant Managing Editor
Kelly joined CinemaBlend as a freelance TV news writer in 2006 and went on to serve as the site's TV Editor before moving over to other roles on the site. At present, she's an Assistant Managing Editor who spends much of her time brainstorming and editing feature content on the site.