More Harry Potter And The Cursed Child Tickets Are About To Go On Sale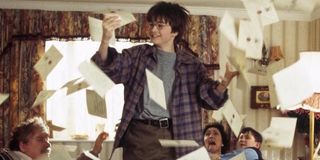 (Image credit: Harry Potter and the Philosopher's Stone)
The owls are on their way to deliver Harry Potter and the Cursed Child tickets to even more fans of the magical franchise very soon! The hit production announced that it will release tens of thousands of new tickets for performances in the first half of 2018 later this month.
The Harry Potter and the Cursed Child team will be releasing 75,000 new show tickets for sale on Monday, January 23 at 11:00 a.m. GMT (that's 6:00 a.m. EST), the show's website announced. The tickets will be for performances beginning on February 7 of 2018 and running through April 29, 2018. The tickets will be priced to start at £15, which is about $18.25, although some will be priced up to £20, which would be about $24.33. You'll probably want to mark your calendars and set your alarms right now to be sure you get a chance to buy a ticket, though, as the last time the play released tickets they sold out within the day.
At the end of November, the production team held a similar ticket release for the final performances of 2017 and the first few performances of 2018, through February 4 of that year. In less than six hours of being available, all 60,000 of those tickets were bought up by eager Harry Potter fans. If you missed your chance to get in on the magic then, you'll have a bit of a better shot with the upcoming release, since it includes 15,000 more tickets than the previous one did. You should still be ready to buy right at 11:00 a.m. GMT, to be sure you've got your proverbial ticket to Hogwarts.
Of course, Harry Potter and the Cursed Child is now only playing in London's West End, so American fans are going to have to be willing to make a trip across the pond to check it out. But thankfully, that might be changing pretty soon. J.K. Rowling announced last month that the play is in talks to premiere on Broadway in the spring of 2018, which coincidentally is the same season that the tickets going on sale on January 23 will be for. So just in case you can't lock down your tickets later this month, you can still hold out hope that the show opens in New York at around that same time anyway!
Some other ways to try to get tickets to the sold-out Harry Potter and the Cursed Child performances in London include waiting in line outside the theater for returns, or for the not-so-obsessed, entering the online Friday Forty lottery, which offers winners the chance to purchase two tickets for £40 ($48.67). And of course, you can always read the play's script, which J.K. Rowling published with Jack Thorne and John Tiffany over the summer of 2016.
Keep checking the play's website for more updates!