Alanis Morissette Apparently Is The Latest Celebrity To Be Burglarized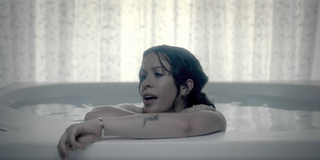 (Image credit: Not As We video)
Alanis Morissette might be summoning up enough anger for another "You Oughta Know" rage-track after the terrible few weeks she's having, but her target this time will be the robbers who stole millions from her home instead of Dave Coulier. (I will take any chance possible to bring up the fact that she's rumored to have written that song about Uncle Joey from Full House). Sadly, Morissette's house isn't so full anymore, since she was reportedly robbed of millions of dollars worth of jewelry last week.
Yep, it's yet another celebrity jewel heist --- why do these seem to keep happening in the past few months? Apparently, robbers stole $2 million of Alanis Morissette's jewelry from her Brentwood, California home last Thursday, TMZ reported. Though not much about the robbery is known, the jewels were apparently kept in a "very secure area," and Morissette was thankfully not home when the burglary occurred.
This is actually the second major hit to Alanis Morissette's finances in the past few weeks. Towards the end of January, Morissette's former business manager Jonathan Schwartz admitted in court that he stole nearly $5 million from the singer when he was managing her from 2009 to 2016, BBC reported. Morissette had sued Schwartz last year for the embezzlement, but dropped the lawsuit after reaching a settlement out of court.
Of course, Alanis Morissette's jewelry robbery is just the latest in what is becoming a string of celebrity burglaries. Kim Kardashian is still dealing with the effects of being robbed of over $5 million in jewelry at gunpoint while in a Paris hotel room back in October. Kardashian went off social media and cancelled her public appearances for three months following the traumatic robbery, and helped the Paris police identify a number of men who were arrested and charged for their involvement in the crime.
And more recently, just last week it was reported that robbers broke into Nicki Minaj's home and made off with $200,000 worth of her jewelry and possessions. Like Alanis Morissette, Minaj was luckily not home at the time of the robbery, but reportedly her burglars not only took her stuff but also trashed the place and cut up her clothes.
The jewel heist craze targeting female celebrities really does seem to be a string of terrible coincidences --- or as Alanis Morissette might incorrectly call it: ironic.
But all jokes aside, hopefully Alanis Morissette and the police are able to find out who was behind the robbery. I mean, $2 million is nothing to sneeze at, even if you are one of the most successful alt-rockers in the world. And that on top of finding out her former manager was also stealing millions from her!? Jeez... Here's hoping for a brighter financial future for you, Alanis.
Your Daily Blend of Entertainment News
Your Daily Blend of Entertainment News
Thank you for signing up to CinemaBlend. You will receive a verification email shortly.
There was a problem. Please refresh the page and try again.