Shia LaBeouf Was Kicked Out Of A Bowling Alley For Screaming About Racism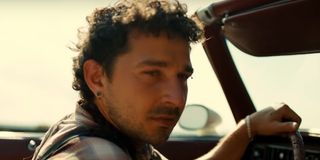 Sometimes it seems like Shia LaBeouf's antics and peculiarities overshadow his acting ability and hard work, which is a bummer because the 30-year-old movie star appears to care about his career, and we want to take him seriously. Nevertheless, here we are again with another goofy episode from the life and times of the Transformers actor. This one is pretty pinheaded. Patrons at Pinz, a bowling alley in Studio City, Los Angeles, recorded Shia LaBeouf in the midst of a shouting match with a server at a deli connected to the bowling alley. Catch the footage here, and continue reading below for details about what may have precipitated the interaction.
As you can see in the video from TMZ, the Disturbia star apparently became disturbed because the server behind the counter at Jerry's Deli, which is connected to Pinz, would not make french fries for him. Several eye-witnesses alleged that the actor had been drinking beers at the establishment for three hours before the uproar. Reportedly, Shia LaBeouf became rowdy and entered the verbal altercation with the bartender, so the staff of the bowling alley had to intervene and ask him to leave.
Instead of exiting gracefully, Shia LaBeouf told off the bartender by calling him a racist in a rant littered with expletives. At one point he accused the employee of trying to assault him with a bottle. One video of the incident showed LaBeouf leaving in a hurry after the staff had escorted him outside; however, the actor had to return because he was still wearing the bowling alley shoes he had rented. After LaBeouf had collected his street shoes, he left again and ran off. Neither the people from Pinz nor LaBeouf's representatives have commented on the incident or what exactly instigated the problem.
Last year, it sounded like things were back on the up and up for Shia LaBeouf in his career and personal life. He married his sweetheart of several years, Mia Goth, in Las Vegas last October. Regarding his career, it seemed like he had a lot of open doors in front of him. Unfortunately, recent news about LaBeouf has not been hot. His indie movie Man Down received poor reviews across the board in the United States, and it sold an abysmal number of tickets in the United Kingdom. Do you think LaBeouf was blowing off some steam at the bowling alley in response to that particular letdown?
This kind of news is disappointing because we have always thought LaBeouf had potential to do great things in Hollywood. We hope Shia LaBeouf can put his days of bad behavior behind him once and for all. The actor has another movie, Borg vs. McEnroe, slated for this year, so we'll be keeping our eye on him. Here's hoping he doesn't have plans to go bowling again soon.
Your Daily Blend of Entertainment News