Shia Labeouf Got Arrested At His Trump Protest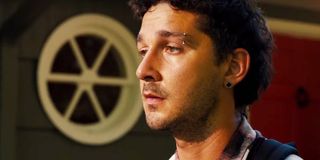 (Image credit: American Honey)
Shia LaBeouf has never been one to shy away from controversy, and his latest performance art project has turned out to be no different. The actor and artist was recently arrested at the site of his He Will Not Divide Us installation in New York.
Early on Thursday morning, several policemen approached Shia LaBeouf as he was participating in his live-streaming project in Queens, New York. The arrest was captured on the live-stream: LaBeouf appears to have a brief verbal altercation with one of the officers before he is handcuffed and taken away. According to the New York Times, LaBeouf was arrested at 12:30 a.m. and charged with misdemeanor assault and harassment for a physical altercation he got in with another man at the live-stream site. LaBeouf was issued a court date, was not jailed, and was released hours after his arrest.
The arrest was captured by the He Will Not Divide Us live-stream camera, and can be seen below.
Shia LaBeouf's He Will Not Divide Us project has gotten an immense amount of public attention, both from supporters and detractors. LaBeouf set up a camera outside of the Museum of the Moving Image in Queens on the day of Donald Trump's inauguration last week, and has invited those interested to come to the location and chant "He will not divide us" into the live-streaming webcam. The project is intended to continue for the next four years, when Trump's first term as President will be over.
While the project has attracted many participants, it's also galvanized an opposition group. A few Trump supporters have gone to the installation site to mess with Shia LaBeouf. Supporters of LaBeouf's project are pointing to a man that called the actor over for a photo and then whispered "Hitler did nothing wrong" into his ear as the reason that LaBeouf was arrested. In a video of the event uploaded by the art installation's Twitter account, LaBeouf forcefully pushes the man away and walks off. However, the police have not identified the man involved in the instance that led to LaBeouf's arrest, so it might not be this person.
Over the weekend, the live-stream received similar attention when a man began whispering neo-Nazi slogans into the camera. Shia LaBeouf, who is of Jewish descent, responded by screaming "He will not divide us" into the man's ear until he went away.
Shia LaBeouf is now released from police custody and will have to make a court appearance in April. Presumably, he will be resuming his post at the live-stream in due time.
Your Daily Blend of Entertainment News
Thank you for signing up to CinemaBlend. You will receive a verification email shortly.
There was a problem. Please refresh the page and try again.