What Happened With That Intruder, According To Dancing With The Stars' Maksim Chmerkovskiy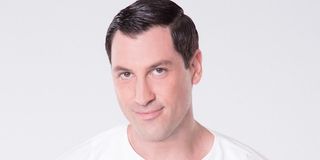 What a tough time for Maksim Chmerkovskiy. After he and former Glee star Heather Morris had exited Dancing with the Stars (despite earning the first perfect score of the season), the pair were supposed to report to Good Morning America for a debriefing. Morris made an appearance on the show via satellite. However, she showed up without her dance partner and revealed Chmerkovskiy was at home dealing with an apparent intruder situation.
Not long afterward, Maksim Chmerkovskiy called into a satellite radio show to clarify the specifics of what happened at the residence he shares with his wife, dancer Peta Murgatroyd, and their three-month-old son, Shai Chmerkovskiy. The 37-year-old Ukrainian-American dancer sounded peeved by the incident, which transpired on the morning of Tuesday, April 25, but he also seemed relieved overall as he spoke with the show's host. The Latin-ballroom-dance champion indicated the conflict at his house was shocking and upsetting, saying,
The explanation of the strange confrontation was part of Maksim Chmerkovskiy's call to Maria Menounos's Sirius XM radio show. The award-winning choreographer explained the former owner of the house was with a friend, and both people were inebriated. Chmerkovskiy found the incident somewhat amusing because it was such an unusual situation. Without naming names, Chmerkovskiy did share some interesting information about the alleged offender. He stated,
Reportedly, the police warned the former owner of the home to leave and not return or else they would charge him with trespassing. The troubled man and his drunken pal left the scene, but Chmerkovskiy was too shaken to leave his family alone at the house, so he canceled his appointment with GMA. In fact, it was sweet the way the dancer described not wanting to leave his family after the precarious situation. He explained his house was extra full that morning, but the idea of leaving for work did not sit well with him for the following reason:
This situation seems distinctive from other Hollywood break-ins because it sounds like the supposed offender did not want to steal anything; rather, he was someone in a troubled state of mind who felt irate about losing his home. Still, it is worth noting we have seen many other instances of home invasions in Tinseltown in recent times. Some, like the one at the Drake residence, seemed strange. Others, like what happened at the home of Emmy Rossum, sounded terrifying. So, it is a good thing the police were quick to respond at Maksim Chmerkovskiy and Peta Murgatroyd's home because the situation could have been much worse.
Your Daily Blend of Entertainment News
Thank you for signing up to CinemaBlend. You will receive a verification email shortly.
There was a problem. Please refresh the page and try again.