How Long Jersey Shore's Mike 'The Situation' Sorrentino Has Been Sober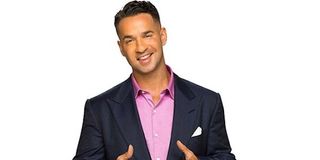 Mike "The Situation" Sorrentino gained recognition as a wild party animal in his twenties on MTV's Jersey Shore, but apparently, he has been living a clean and sober life for a while. The television personality has been working on leading a sober life for quite a bit of time, and now Sorrentino is feeling great after a full 18 months sober. He is opening up about taking a cold, hard look at his life after he relapsed with prescription painkillers. In a recent interview, the celebrity detailed the painkillers, the relapse, and the pain he caused other people, saying,
The Situations's description of his dysfunctional life in active addiction comes from an interview with People. Of course, the MTV show that made Sorrentino famous also served as a way to document the television personality's early struggles with addictive behavior. By the end of the show in 2012, Sorrentino had spent 60 days at a rehabilitation facility. Afterward, the reality-show personality enjoyed two years of sobriety.
But it was after the show ended that Mike Sorrentino's struggles with addiction took a dark turn that he said "practically destroyed" his life. He began taking prescription painkillers after he cracked his ribs at the gym in 2015. The medicine led him to relapse, and the road to sobriety was not any easier the second time around for the 34-year-old television personality. Nevertheless, he chose to put his best foot forward to build a happy sober life, and now his health is back on track a year and a half later.
Unfortunately, due to legal troubles, The Situation is still looking at a tough road ahead. He and his brother, Marc Sorrentino, face ongoing accusations that they filed fabricated tax returns and conspired to defraud the U.S. government. The brothers pleaded not guilty to the charges, and their case will go to trial next year. The ongoing court case could be a talking point on WE tv's upcoming Marriage Boot Camp: Reality Stars -- Family Edition, on which Mike Sorrentino appears with Marc Sorrentino and their eldest brother, Frank Sorrentino, Jr. However, it sounds like the biggest issue on the show will be Mike Sorrentino's desire to make amends with his family for the pain he caused while active in addiction.
Reportedly, Mike Sorrentino is receiving plenty of help in his new sobriety journey, and he is attending multiple addiction support group meetings each week. It is major that he is reaching out for help. We hope Sorrentino is getting plenty of rock-solid support from recovered addicts. Plus, we bet Sorrentino, with his year and a half of sobriety, could be a big help to other recovering addicts, especially newcomers to his meetings who are praying for a fresh start. Congratulations on 18 months, Mike.
Your Daily Blend of Entertainment News
Thank you for signing up to CinemaBlend. You will receive a verification email shortly.
There was a problem. Please refresh the page and try again.