Jodie Sweetin's Former Fiance Is Going To Jail For 6 Years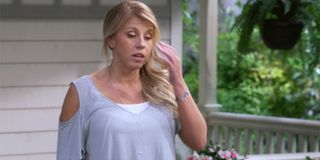 Jodie Sweetin's personal life has been turbulent in recent months. Not long ago, a representative for the 35-year-old actress announced Sweetin split from Justin Hodak, the man to whom she was engaged for a year. Now, a mere two months later, Hodak is headed to prison. Here is what we know.
In March, Jodie Sweetin called off her engagement to Justin Hodak. Since then, the Fuller House star's former fiancé has been arrested multiple times. Recently, Hodak had to visit a court in Van Nuys, California. There he pleaded "no contest" to charges of possession of a deadly weapon and falsifying evidence by threatening a witness with force or implied force. Justin Hodak was sentenced to serve 120 days in prison as part of a suspended sentence of six years and eight months. After Hodak serves 120 days, he should be released on probation for five years. If he fails to adhere to the terms of his probation, he will return to prison for the remainder of the six years and eight months of the suspended sentence.
According to People, Hodak must wear an ankle monitor for two months after he gets out of prison, he must begin a 52-week domestic violence program no later than 30 days from the date of his release from prison, and he is not allowed to distribute any photos or videos of his ex-fiancée. That final term was a protective measure to cover a statement in Sweetin's filing that claimed Hodak threatened to sell potentially incriminating pictures of her that he had on his phone.
Back in March, Jodie Sweetin called the authorities to report Justin Hodak's erratic behavior. Allegedly, he threatened to kill himself while under the influence of alcohol and drugs, and when the police arrived, they discovered a 9 mm semiautomatic weapon, something Hodak was not allowed to have because he is a convicted felon. This incident led to Sweetin filing for a restraining order against Hodak. The next day a representative for Jodie Sweetin announced the couple's breakup. He was supposed to stay at least 100 yards away from Sweetin. The order also covered Sweetin's children, her parents, her assistant, her home, her vehicle, and her children's school. Plus, he was not permitted to contact Jodie Sweetin in a direct or indirect way. However, Hodak violated the terms of the restraining order on at least two occasions, which resulted in his arrest.
Had Jodie Sweetin married Justin Hodak, it would have marked the fourth marriage for the nineties star. Sweetin has two daughters, Beatrix and Zoie. In the aftermath of the breakup, she took to social media to share a photo of herself with them to thank followers for their support during the tough time.
It is a shame that these difficult circumstances are swirling around in Jodie Sweetin's life. Hopefully, both parties can move on now that the legal measures are in place.
Your Daily Blend of Entertainment News