Watch Modern Family's Sarah Hyland Sing Backup In Acoustic Closer Cover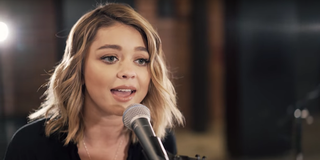 Fans of Modern Family are already well aware that Sarah Hyland is a gifted comedic actress, but most people probably didn't know that she's also an incredible singer. The actress showed off her surprisingly impressive pipes in an acoustic cover of the top 40 hit "Closer" on Monday, leaving us to wonder why she isn't singing all the time! Sarah Hyland collaborated with the cover band Boyce Avenue for the Chainsmokers, in which she sings the part of featured artist Halsey. The stripped-down performance showcases Hyland's voice beautifully, as she passionately delivers her verse and nails the falsetto accompaniment over the second chorus. Let's just say, Phil and Claire Dunphy would be very proud. Check out the video below.
Pretty amazing, right? Though this is probably your first introduction to Sarah Hyland as a singer, its not her first time belting out a tune for a crowd. Hyland has a background in musical theatre. As a child actor, she appeared in the television remake of Annie, and in the Broadway musical Grey Gardens. More recently, Hyland put her impressive voice on display in 2014 for a stage show of The Unauthorized Musical Parody of Scream. Check out her awesome performance of Bob Dylan's "Knockin' On Heaven's Door" from that show below.
So there's really no doubt now that Sarah Hyland can deliver an incredible vocal performance, and the original artists of "Closer" agree. After Boyce Avenue posted the cover, The Chainsmokers offered their praises to the band and to Hyland, saying that they sounded awesome.
And Sarah Hyland and Boyce Avenue aren't just stopping here. The cover band told fans that they are releasing another cover featuring Hyland next week. Given that Boyce Avenue's recent covers include hits by Twenty One Pilots, Katy Perry, and Adele, it's pretty safe to assume that the upcoming cover with Hyland will be another current smash single. My money's on the Calvin Harris-Rihanna collabo "This Is What You Came For" if I had to venture a guess.
Whatever the next song is, it seems very likely that Sarah Hyland is going to deliver yet another incredible performance. During that "Closer" cover, it almost felt like Haley Dunphy got an "s" dropped into her name and completely transformed into Halsey. Go ahead and compare Hyland's voice to the original song; it's pretty spot-on.
Your Daily Blend of Entertainment News