Meghan Markle Appeared With Prince Harry In Public For The First Time, Sort Of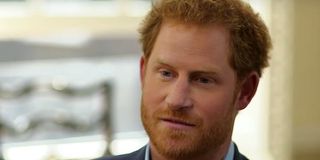 Over the weekend, Prince Harry and his Hollywood girlfriend, Meghan Markle, attended the Invictus Games Opening Ceremonies in Toronto, Ontario. But Prince Harry and Markle were not exactly together---not side by side anyway. It turns out Prince Harry sat several rows behind the 36-year-old actress, who sat next to her party-planner pal instead.
The seating arrangement contradicted previous reports that Prince Harry and Meghan Markle planned to use the Invictus Games as an opportunity to appear together as a couple for the first time. Sitting apart, the 33-year-old prince and Markle left room for speculation about their relationship. Still, it seems clear they were together.
The Invictus Games worked for both Prince Harry and Meghan Markle. She originally hails from California and films the court-room drama Suits in Toronto, Ontario, and he works with the disabled and wounded veterans who participate in the Games. This year, the Games began in Toronto, so many people hoped to see the couple together. For all intents and purposes, that is what people saw. Then again, depending on your opinion, you could say Prince Harry and Meghan Markle did not attend "together."
Still, they were not far apart, and perhaps the seating arrangement had a rhyme and reason. For example, Prince Harry gave a speech, so maybe he needed to sit somewhere with special access. Besides, they supposedly interacted. The Washington Post says Prince Harry lovingly caught Meghan Markle's attention during the Canadian national anthem.
Regardless, it is no secret Prince Harry and Meghan Markle are a couple. The pair has gone to numerous private events together. For example, Prince Harry took Markle as his plus one to Pippa Middleton's wedding in May. Similarly, Prince Harry has taken Markle on vacations to places such as Botswana, where they recently went for her birthday. Plus, Markle referred to Prince Harry as her boyfriend in a candid interview this year. In fact, she spoke so openly that she reportedly upset royal advisors who wanted to keep the relationship discreet.
Supposedly, advisers want discretion because Markle is American. If the relationship goes to the next level, it could raise questions about Prince Harry abdicating his claim to the throne, though he is way down the line behind Queen Elizabeth II, Prince Charles, Prince William, Prince George, Princess Charlotte, and Prince William and Princess Catherine's unborn third child. (Plus, Prince Harry has said he is not interested in the throne.) Another alleged reason advisers want to keep the relationship private is the fact Markle is a divorcee. (And, you know, divorce suddenly matters at Buckingham Palace.)
The Invictus Games will take place over the next two weeks. Therefore, Prince Harry and Meghan Markle might have other chances to cozy up for the cameras. However, if the act of sitting together would send the world into a frenzy, the couple might want to keep attention on the Games instead of causing a romantic ruckus.
Your Daily Blend of Entertainment News
Your Daily Blend of Entertainment News
Thank you for signing up to CinemaBlend. You will receive a verification email shortly.
There was a problem. Please refresh the page and try again.