What Taylor Swift Would Have Changed About The Look What You Made Me Do Video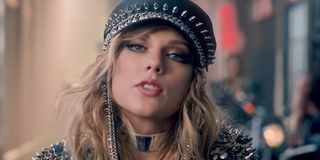 Taylor Swift's "Look What You Made Me Do" music video is fun with many hidden gems. But while the 26-year-old pop singer crammed in a lot of bright ideas, there was one small touch she thought up too late. In a video from the making of "LWYMMD," Swift realized she wished the ears of her cat mask more closely resembled the ears of her real cat. After filming a scene in which she and her gal pals rush a vault at a music streaming company, Swift said of the cat masks,
Taylor Swift was still holding the cat mask when she realized the ears were too pointy to resemble those of her famous Scottish Fold cat, Olivia Benson. But before the a-ha moment, Swift indicated the "LWYMMD" video already had plenty of zany ideas. She talked about the craziness and said,
It's cool to see Taylor Swift in her creative element in the Youtube video from behind the scenes of the "LWYMMD" video. Take a look:
Despite the imperfect masks, Taylor Swift ended up with a well-constructed video with dozens of references. For example, "LWYMMD" starts with Swift coming back from the dead in zombie form. In the graveyard, one tombstone says Nils Sjoberg, Swift's pseudonym in the credits for "This Is What You Came For," which she co-wrote with Calvin Harris. In another scene, Swift hid a $1 bill to reference the $1 she won in court from former radio DJ David Mueller, whom a jury convicted of groping her at a meet-and-greet.
Additionally, snakes throughout the video symbolize people calling Taylor Swift a snake after Kim Kardashian blasted her on social media by posting recordings of Swift talking to Kanye West. The recordings suggested Swift and West colluded to create a controversy, which raised eyebrows and sent some of Swift's biggest critics online to post tweets with the snake emoji.
At another point, Taylor Swift dressed like Katy Perry and held a Grammy Award, a dig at the how Perry has yet to win a Grammy while Swift has won many. Later, Swift danced with eight backup dancers representative of her eight most famous exes Jake Gyllenhaal, Calvin Harris, Tom Hiddleston, Joe Jonas, Conor Kennedy, Taylor Lautner, John Mayer, and Harry Styles. Finally, the video wraps up with a hilarious moment that sees a bunch of past Swift personas meet up and hash out personal problems.
The references in "LWYMMD" are subtle but abundant. So, while Taylor Swift was not quick enough with the idea for the cat mask ears, she still squeezed in plenty of hidden gems.
Your Daily Blend of Entertainment News
Your Daily Blend of Entertainment News
Thank you for signing up to CinemaBlend. You will receive a verification email shortly.
There was a problem. Please refresh the page and try again.