How Prince Harry Proposed To Meghan Markle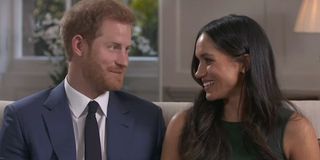 This week Prince Harry and Meghan Markle announced they plan to marry next spring. The announcement excited many people around the world, and now we know how the 33-year-old prince proposed to his American actress girlfriend. Apparently, Prince Harry went a traditional route by popping the question on one knee. It all happened at home on a casual evening in early November while the couple was making dinner. Prince Harry and Markle sat down for a cute interview, during which Prince Harry described the evening as "a standard, typical night." Markle then added details and said,
Meghan Markle went on to explain she not only gave Prince Harry an immediate yes, but she also cut him off before he was finished proposing because she was ready to accept. The Suits actress said she stopped Prince Harry and meekly asked,
Prince Harry added Meghan Markle seemed to have forgotten all about the ring because she felt such excitement. He said they shared a hug and then he asked if she would like the ring. He made it sound as if Markle had overlooked the ring at first but suddenly remembered and giddily accepted.
How cute is that? There were none of the usual romantic stunts we think of when we envision what marriage proposals might look like for royals. There were no glass slippers to try on but talk about a modern fairy tale. Prince Harry took a page from his personal, cool-as-can-be playbook, as he almost never does things the way most people expect.
In the interview, Prince Harry and Meghan Markle talked about how their lives will change with this wedding. From the sounds of it, Markle's life will literally see a sea change of difference, as the couple's engagement announcement said that they planned to move into the Nottingham Cottage at Kensington Palace.
Furthermore, Meghan Markle acknowledged she would be taking her final bow on Suits, but she was happy to have had several successful years on the show. She also talked about how she managed to bring one of her rescue dogs with her to the UK and leave her other one with friends, at least for now. Could these two be more down-to-earth? No wonder the proposal happened at home on a casual night. Watch the interview with BBC's Mishal Husain in full here:
The proposal sounded terrific, but what seemed even better was the humble and mature ways Prince Harry and Meghan Markle talk about nourishing their relationship. They said they noticed many mistruths in the press, especially when the relationship was new, so they decided not to read stories about their relationship so they could keep focused on the truth and nurture their love. What a great approach. It underscores other wonderful ways in which they have talked about letting their love blossom organically over time in other interviews. Theirs is going to be such a fun wedding and marriage to watch.
Your Daily Blend of Entertainment News
Your Daily Blend of Entertainment News
Thank you for signing up to CinemaBlend. You will receive a verification email shortly.
There was a problem. Please refresh the page and try again.