Will Meghan Markle Be Able To Use A Royal Title?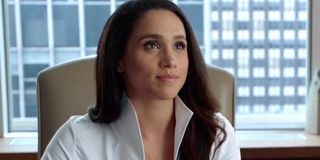 A unique trait of Prince Harry's new fiance, Meghan Markle, is her American citizenship. Now the Internet is abuzz with questions about her eligibility to obtain British citizenship and a royal title when she marries into the royal family in May 2018. We know Meghan Markle technically cannot be Princess Meghan because she is not already a princess. But from there, things are uncertain.
Let's begin with the basics. United States citizens who want to become British citizens must reside in the United Kingdom for five years and pledge an oath to the Queen. Meghan Markle probably has a foot in the door. She and Prince Harry's engagement news received support from Queen Elizabeth II, who also had tea with Markle not long ago.
Moreover, TMZ points out American citizens also must be of good character and have a fluency in English. Those characteristics apply to Meghan Markle who is charitable, smart, and well-spoken. Thus, Markle most likely will get the citizenship she needs to live at Kensington Palace like the announcement states she and Prince Harry plan to do.
Then news outlets like The Sun say Queen Elizabeth II might gift Prince Harry the honorary title of the Duke of Sussex when he and Markle marry. If so, Markle might take on the feminine version of the name and become Her Royal Highness (HRH) Princess Henry of Wales. Likewise, she might opt for the more straightforward name of Meghan, Duchess of Sussex. People assume the Queen will give those names to Prince Harry and Markle as she previously gifted Prince William his title--Duke of Cambridge--when he married Kate Middleton in 2011, and in that way, Middleton became Catherine, Duchess of Cambridge.
But considering Kate Middleton's proper title for a moment, you might wonder why some news outlets sometimes call her Princess Catherine. You might be right to question. Middleton's correct title is not Princess, just as it will not be Meghan Markle's. However, some reporters have embraced Middleton as Princess Catherine, and they might do the same for Markle from time to time.
After all, the world did the same thing with Prince Harry's mom, Diana. Her royal title was never "Princess Diana," but the world knew her by that name. In reality, she had several titles while married to Prince Charles. Because he was Charles, the Prince of Wales, she became Diana, Princess of Wales. She also was Duchess of Cornwall, Duchess of Rothesay, and Countess of Chester, and she had her own HRH title to correspond with her husband's.
In fact, she lost her HRH title and had to stick with Diana, Princess of Wales, due to a convoluted twist in her divorce from Prince Charles. Supposedly, Queen Elizabeth II tried to convince Prince Charles to let her keep it, but he demanded otherwise--or something. It is a bit of a headache to understand, so perhaps it will come up in the upcoming season of Ryan Murphy's Feud, which reportedly will tackle the marriage of Charles and Diana next.
Regardless, when Diana died, Prime Minister Tony Blair gave a speech and referred to her as "the people's princess," a nickname that stuck. And now, a lot of news outlets are hailing Meghan Markle "the new people's princess" before she is even married to Prince Harry.
The speculation is going to continue until the marriage. It will be interesting to see exactly how it all works out. My bet is people most likely will call her Duchess Meghan and keep on with the "new people's princess" bit, but we'll have to see.
Your Daily Blend of Entertainment News