Meghan Markle's Finally Had Tea With The Queen, Which Is A Big Deal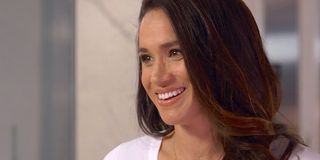 It appears Meghan Markle is getting close with Prince Harry's royal relatives, including Queen Elizabeth II. Apparently, Markle and the Queen had tea together last week in a meet-and-greet Prince Harry put together. Some people say the moment was "informal." But, it was tea with the one-and-only Queen of England. That aspect is compelling, and the fact Prince Harry set up the event also has big implications for the direction of his and Markle's relationship.
As a source for Daily Mail tells it, Prince Harry personally asked his 91-year-old grandmother to meet his Hollywood actress girlfriend, whom he has been dating for about a year and a half. Upon returning from her holiday at Balmoral Castle last week, the Queen agreed to have the meeting, which supposedly was an informal tea that began at five o'clock in the afternoon and lasted about an hour.
Queen Elizabeth II's husband, Prince Philip, was not at the meeting because he has been spending time at Sandringham ever since he retired. However, Meghan Markle has previously met some of Prince Harry's other family members. For example, she spent time with her boyfriend's dad, Prince Charles, and stepmom, Duchess Camilla. Prince Charles reportedly said he was "very impressed" by her, while the Duchess of Cornwall said Markle was "very pleasant."
Moreover, Meghan Markle has been to Prince Harry's home at Kensington Palace many times and met family and friends there. She has a great friendship with her boyfriend's elder brother, Prince William, and sister-in-law, Princess Catherine. People like Markle so much that she was one of only a few dates to attend Pippa Middleton's wedding reception as a plus one despite the event's "no ring, no bring" policy.
When Prince Harry and Meghan Markle were starting out, Prince Harry asked people to give them their privacy. Since then, royal aides have avoided commenting on the romance. However, Markle threw them for a loop this summer when she called Prince Harry her boyfriend in a magazine article (in which she also asked people to give her and Prince Harry privacy). Now royal aides are refusing to confirm or deny anything about Prince Harry's relationship. At the same time, people are speculating more than ever that Prince Harry and Markle are on their way to marriage.
This year, Prince Harry and Meghan Markle attended the Invictus Games in Toronto, Ontario. It was a big moment for the couple. People wondered if they might make their romance official by going together. They did appear together and even got spotted holding hands, but surprisingly, they chose not to sit together. Rumor had it they still wanted to respect the boundaries royal family members are asked to consider. Perhaps meeting Queen Elizabeth II was one of those considerations.
We'll have to stay tuned to see what Prince Harry and Meghan Markle do next. It is exciting to know that she and the Queen had a chance to meet. That must have been a powerful moment for Markle on a bunch of levels.
Your Daily Blend of Entertainment News