One Firefighter Who Responded To The Princess Diana Crash Talks About What Happened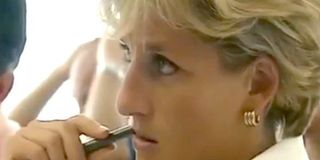 Today marks 20 years since Princess Diana's untimely death. Among the people opening up about the tragic accident is Xavier Gourmelon, the first responder who gave Diana CPR and temporarily resuscitated her. As fate would have it, the 50-year-old former firefighter was one of the first people on the scene after the accident and even spoke to the Princess a little bit before her death. In his first interview about the incident, Gourmelon said,
Apparently, Xavier Gourmelon was being sincere in reassuring Princess Diana. While he opened up about what happened the night of the accident, he said he was on the scene in three minutes. When he encountered Diana, he noted he honestly thought she would make it after he managed to resuscitate her and get her set up in the ambulance. In fact, he reported that he was horrified when he got word that she died hours later at the hospital.
Xavier Gourmelon told The Sun he treated the accident like it were any emergency he encountered. He said the crash appeared typical with "the usual causes: speed and a drunk driver." He did not even realize he was working on Princess Diana until she had been put in the ambulance and rushed to the hospital.
It sounds like Xavier Gourmelon did what he could and followed protocol, so why was he silent for twenty years? Apparently, Gourmelon kept quiet out of respect for his job. He explained,
In the interview, Xavier Gourmelon revealed a piece of information many people might not consider. Before he retired, he occasionally had to return to the spot in the Pont de l'Alma tunnel where the accident occurred. Apparently, accidents still happen there when motorists slow to see the spot and crash or when pedestrians cross the road to see it and get hit.
These days, Xavier Gourmelon is but one of many people talking about that sad time. For example, Colin Tebbutt and Paul Burrell, former drivers for the royal family, recently participated in a documentary about Princess Diana. They spoke about the hardship of retrieving her body from the hospital in France.
In another documentary, Princess Diana's brother, Charles Spencer, talked about the tragedy. He expressed how hard it was to watch Prince William and Prince Harry follow Diana's casket.
In fact, Prince William and Prince Harry both spoke about Princess Diana this year, too. In one interview, Prince William reflected on parts of his life he wishes his mom were alive to see. In another, Prince Harry said it took him twenty years to seek therapy for the pain he felt over his mom's death. Back then, even Queen Elizabeth II had a horrible time coping. This fact recently came to light when a letter she wrote to her aide in the tragedy's aftermath surfaced. In the letter, the Queen expressed how hard the loss of Diana was for everyone.
Indeed, the loss of Princess Diana was awful. It seems she had a profound effect on the lives of many people, even in the final moments of hers. It is hard to believe it has been twenty years.
Your Daily Blend of Entertainment News