The Sweet Way David Spade Honored Chris Farley On The 20th Anniversary Of His Death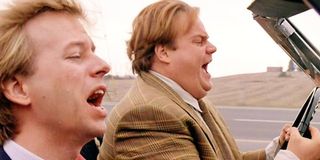 Monday marked 20 years since late actor Chris Farley passed away at the age of 33 on December 18, 1997. Now David Spade, Farley's film co-star and Saturday Night Live colleague, has paid tribute to the loss of his friend with a social media picture. Spade added a short, somber caption to the photo, to remind people of the two decades that have passed since the loss:
David Spade shared the memorial with his 2.74 million Twitter followers and nearly 1 million Instagram followers. The 53-year-old comedic actor's pictured racked up more than 150,000 likes from social media users of both platforms, many of whom chimed in with astonishment that it has been so long since Chris Farley's death.
Some social media users recalled catchphrases of Chris Farley's famous Saturday Night Live characters. For example, there were the occasional Instagram comments like "Da Bears" and "...in a van down by the river." Other people lamented the loss of Farley, with comments like "We all definitely missed out on a star" and "Hollywood would probably be better if he was still around."
It is not the first time David Spade has paid tribute to his late friend. Two years ago, Spade honored the twentieth anniversary of Tommy Boy by posting a picture of a poster Chris Farley had signed. Spade explained the picture by writing how he "was very lucky to be in this movie with one of the all-time funniest" comedians. Spade explained how he and Farley have given each other signed posters as a joke, and how seeing it today makes him cry.
David Spade was not the only person posting about Chris Farley to mark the 20 years since the SNL funnyman's death. The late comedian's actor brother, Kevin Farley, also tweeted about it by writing:
Chris Farley appeared on SNL from 1990 to 1995. He became a fan favorite with characters like motivational speaker Matt Foley and Weekend Update correspondent Bennett Brauer. Farley also found big laughs with sketches like a Chippendales dancer routine alongside late actor Patrick Swayze.
After SNL, Chris Farley starred in Tommy Boy and Black Sheep with David Spade. He also starred in Beverly Hill Ninja. When he passed away, he reportedly was slated for several big projects. In fact, Farley originally was supposed to be the voice of Shrek; when Farley died, the role went to Farley's SNL comedian colleague, Mike Myers.
Chris Farley's younger brother, John Farley, discovered the SNL actor deceased in his Chicago apartment. Investigators later concluded Chris Farley had been abusing controlled substances and ultimately overdosed on cocaine and morphine. Farley also had atherosclerosis, advanced heart disease intensified by arteries narrowed from plaque. Atherosclerosis played a supporting role in Farley's death when the mix of drugs caused additional stress on his body.
Today, Chris Farley's fans remember him for his larger-than-life SNL characters and his ability to get laughs with exaggerated, zany humor. At the same time, it is clear people like David Spade and others will forever remember him as Chris the colleague, friend, and relative.
Your Daily Blend of Entertainment News
Thank you for signing up to CinemaBlend. You will receive a verification email shortly.
There was a problem. Please refresh the page and try again.